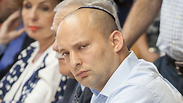 Religious Affairs Minister Naftali Bennett
Photo: Emil Salman
Even as the budget crisis engulfs every ministry in the government, the cabinet approved Sunday another costly measure – NIS 100 million to fund special requests during a shmita year.

A shmita year – the seventh year in a seven-year cycle during which land in Israel must lie fallow – will add another financial burden on the state budget, which has already been loaded with other unexpected expenses, like tax-free purchases of new apartments and transfer payments to Holocaust survivors.

The Israeli taxpayer will not only be forced to fund shmita activities after Rosh Hashana, he will also endure price hikes on agricultural products, as has been the case in previous shmita years.

Shmita Exceptions

Religious Zionism leaders say patients can continue consuming cannabis during year in which land in Israel must lie fallow.

The shmita budget approved includes financial support for the farmers who leave their fields barren (NIS 45 million) and who do not work their fruit trees (NIS 20 million).

The special budget additions will also include NIS 7 million for constructing greenhouses for vegetables in the non-Jewish sector and NIS 11.5 million to non-state institutions who help guide shmita activities.

The government placed the Religious Affairs Ministry in charge of the shmita expenses, and the ministry will receive all the authorizations necessary to implement the religious order.

The Religious Affairs Ministry will team up with the Ministry of Agriculture to create a special project team headed by the director general of the Religious Affairs Ministry, which will be tasked with overseeing disbursement of funds in accordance with government decision.

Finance Minister Yair Lapid has already announced that he will support the decision to fund the shmita year out of the treasury's coffers, but he demanded directives and criteria were determined for supporting non-governmental institutions.
First of its kind
This is the first time the shmita year is funded to such an extent. In 2008, after the last shmita, a state commission was announced to prepare the Israeli market for the next shmita year.
The commission convened four times thus far. In one of the meetings it ordered the creation of a secondary commission to handle the general preparations for the shmita year.