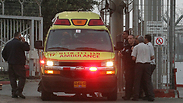 The Shin Bet and Israel Prison Authority have exposed and thwarted 11 attempts of Palestinian security prisoners to orchestrate kidnappings from inside Israeli jails, it was cleared for publishing on Sunday.

The prisoners, from Fatah, Hamas and other Islamic organizations, instructed other terrorists to try to kidnap Israeli soldiers and citizens to secure their own release in a prisoner exchange deal.

The Shin Bet said the investigation into these incidents was still ongoing.

Related stories:

It was also cleared for publication Sunday that 70 administrative detainees have been hospitalized across the country after they went on a mass hunger strike five weeks ago in protest of their arrest and the fact they have not been put on trial.

198 Palestinian security prisoners have also joined the hunger strike as an act of solidarity.

According to Israel Prison Authority protocol, hunger strikers are taken to a hospital for a medical examination after 28 days of the strike, and hospitalized after 35 days. The hunger strikers are hospitalized to allow medical professionals to monitor their condition in case their situation deteriorates rapidly. If that happens, the hospital can then decide whether or not to provide them with medical treatment, whenever possible.

In addition to the 70 administrative detainees who have been hospitalized under heavy security, there are some 100 additional detainees on a hunger strike, but they have not been hospitalized yet as their strike hasn't passed the 35 day mark.

All hunger strikers are being closely monitored to prevent further deterioration of their health.

The Palestinians have released different data than that of the Prisons Authority. According to the Palestinian Prisoners Club, 1,500 security prisoners are currently on a hunger strike in Israeli prisoners.

The Palestinian Prisoners Club claim there was no true dialogue between the striking prisoners' leadership and the Israel Prison Authority about the solidarity strike.

The prisoners said they would continue the strike until Israel stops making administrative arrests. They also said some of the strikers were in bad condition.

Palestinian and Israeli rights groups wrote to EU foreign policy chief Catherine Ashton demanding her "urgent intervention" on behalf of 125 prisoners on long-term hunger strike.

"We... wish to bring to your attention the ongoing mass hunger strike involving approximately 125 Palestinian detainees and prisoners, and request your urgent intervention on their behalf," said the letter, signed by 17 rights groups and the Palestinian prisoners' affairs ministry.

"As of June 1, the majority of the hunger strikers have gone without food for 38 days.

"We have reached a critical stage and unless there is immediate intervention there will be dire consequences for the health of all those on strike," it said.

Among those refusing food are six parliamentarians from the Palestinian Legislative Council (PLC), all of whom are administrative detainees, the letter said. Palestinian officials said they had only recently joined the strike.

A hunger strike is recognized only after the prisoner or detainee returns his meals for two days. As soon as the hunger strike is recognized, the Prison Authority takes punitive measures against the strikers. The hunger strikers are moved from their cells to a different prison block, and different perks they enjoy are stripped away from them - goods purchased at the prison store are taking out of their cells, including electrical appliances, and the strikers are barred from family visits.

In the past, the state decided to release hunger striking detainees whose condition worsened.

The Health Ministry said the hunger strikers were receiving care and were being closely monitored. Some were cooperation and taking different vitamins.

Raanan Ben-Zur and Elior Levy wrote this story. Yaron Kllener, Yoav Zitun and AFP contributed to this story.