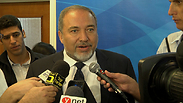 Lieberman
Photo: Eli Mndelbaum
Israel urged Europe's rising right-wing parties on Sunday not to ally with "neo-Nazi, racist" parties, saying it would not recognize political blocs with ties to such groups.
After their resounding victories in the May 22-25 election for the European Parliament, various nationalist and anti-immigration parties have been negotiating on forming coalitions within the assembly.
Though the continent's shift right-ward largely reflects domestic political issues, it has caused unease in a Jewish state created in the aftermath of the Nazi Holocaust that is a strong trade and diplomatic partner of Europe.
"The significant strengthening of parties that have a neo-Nazi, racist character is very troubling," Foreign Minister Avigdor Lieberman told visiting German politican Stephan Weil, according to a statement from Lieberman's office.
"European countries should examine closely the trends that brought this about, and how it might be dealt with."
Lieberman named Hungary's Jobbik and Greece's Golden Dawn as among parties that Israel deemed "illegitimate", and called on more moderate European rightists not to join forces with them.
"A faction which includes a party of this kind will be void, as far as we are concerned," said Lieberman, an ultra-nationalist within Prime Minister Benjamin Netanyahu's conservative coalition government.