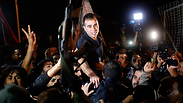 Released Palestinian prisoners
Photo: Reuters
A law that would prevent negotiators from releasing Palestinian prisoners during peace talks was delayed Sunday by Prime Minister Benjamin Netanyahu and deferred to the cabinet for approval just before a Knesset vote was expected to pass the law, drafted and sponsered by Economic Minister Naftali Bennett's Bayit Yehudi party.

The law, which was approved for a final Knesset vote three weeks ago, only referred to those prisoners who are serving life sentences in Israeli jails. Netanyahu's decision of deferral to the cabinet will delay the Knesset vote into next week.

Netanyahu reportedly made his decision for further discussions in the cabinet after Attorney General Yehuda Weinstein said that the bill contained "legal difficulties" in the language of the text that would need to be cleared up and ironed out.

Related Stories

Bennett and his party fumed over the delay saying, "Netanyahu, the prime minister that's released the greatest number of murderers prevented a vote on a law that makes sense."

"Netanyhau, a world champion in releasing murderers, broke a new record: he ran from voting on a law that he supports himself," said sources in Bayit Yehudi.

Netanyahu replied to the attacks saying that there should be more thorough discussion of the law with the help of the cabinet.

The bill was expected pass despite opposition from some political parties like Yesh Atid.