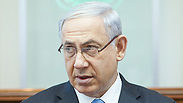 Palestinian unity government expected Monday afternoon
Photo: Emil Salman
Prime Minister Benjamin Netanyahu slammed Europeans states Monday for their acceptance of a Palestinian unity government which includes Hamas, he made the comments at the Knesset Foreign Affairs and Defense Committee.
"It is surprising for me that European governments, which vehemently condemned the Brussels shooting, talk collegially or even in a friendly tone about the Palestinian unity government with Hamas. This is a terrorist organization which undertakes criminal attacks and boasts about them.
Israel and the West classify Hamas as a terrorist organization and have no official dealings with the movement, which advocates the destruction of the Jewish state.
But Palestinian President Mahmoud Abbas, whose Fatah party signed a reconciliation deal with Hamas in April, said a unity government due to be announced on Monday would be composed of ministers without political affiliation, a status that could ease the way for Western engagement.
However, hours before the government was set to be announced, Hamas' spokesperson Sami Abu Zuhri said that some issues regarding its formulation were still contested, and that any unilateral move to ratify the government on part of Abbas' PLO would devoid it of legitimacy.
According to the spokesperson, Hamas has taken issue with Palestinian President Mahmoud Abbas' plan to dissolve the Palestinian Ministry of Prisoners in favor of forming a prisoner affair administration that would be under the PLO's control.
Netanyahu canceled a scheduled Likud party faction meeting Monday in favor of holding an additional Cabin meeting. On Sunday a Cabinet meeting was held in wake of the expected announcement of the Palestinian unity government.
Meretz Chairwoman Zehava Gal-On commented on the Palestinian unity government, and said "I call on the prime minister to see this reconciliation agreement as an opportunity to reach a diplomatic solution.
"Netanyahu's government's objection to the unity government is an excuse intended to derail peace talks. The demand that Abbas choose between Israel and Hamas once again portrays Israel as the side which refuses to give peace a chance."
Netanyahu warned on Sunday against any international rush to recognize a Palestinian government due to be announced under a unity pact between the Fatah and Hamas Islamist groups.
"I call on all responsible elements in the international community not to rush to recognize a Palestinian government which has Hamas as part of it and which is dependent on Hamas," Netanyahu, who has said such an administration would be a front for the Islamist group, told his cabinet.
"Hamas is a terrorist organization that calls for Israel's destruction, and the international community must not embrace it. That would not bolster peace, it would strengthen terror," Netanyahu said in public remarks at the cabinet meeting.
Israel froze US-brokered peace talks with Abbas when the unity deal was announced on April 23 after numerous unsuccessful attempts at Palestinian reconciliation since Hamas seized the Gaza Strip from Fatah forces in fighting in 2007.
Kerry 'concerned'
In a call to US Secretary of State John Kerry on Sunday, Abbas cast the intra-Palestinian moves as a domestic matter that should not affect wider diplomacy with Israel and the West.
Abbas told Kerry "the coming government will be formed of independents and will represent the political agenda of the president," the official Palestinian news agency WAFA said.
Kerry, who oversaw the peace talks that stalled in April, "expressed concern about Hamas's role in any such government and the importance that the new government commit to the principles of nonviolence, recognition of the State of Israel, and acceptance of previous agreements with it," the State Department said in a statement.
Abbas assured Kerry that "the new government would be committed to these principles," State Department spokeswoman Jen Psaki said in the statement.
Abbas said on Saturday that Israel "informed us ... they would boycott us if we announced the government". Netanyahu, in his brief statement on Sunday, made no reference to any Israeli sanctions.
Israel has withheld tax revenues from Abbas's aid-dependent Palestinian Authority, which exercises limited self-rule in the West Bank, in retaliation for his signing in April of international conventions and treaties after Israel reneged on a promised release of Palestinian prisoners.
On Saturday, a Palestinian official said Israel had denied requests by three Gaza-based Palestinians expected to be named as ministers to attend the new government's swearing-in ceremony in the occupied West Bank.
Abbas has said a joint government with Hamas would continue to abide by his policy of recognizing Israel, though the Islamist group insists it would not change its own policy of rejecting Israel's existence.
He has been keen to assure Western donor countries he will remain the key Palestinian decision-maker and that security coordination between his forces and Israel will continue.
Both Fatah and Hamas see benefits to a unity pact, though disagreements have blocked them from achieving such a government for years.
With a strict blockade imposed by neighbors Israel and Egypt, Hamas has been struggling to prop up Gaza's economy and pay its 40,000 employees. Abbas, for his part, wants to shore up his domestic support since the peace talks with Israel collapsed.
Moran Azulay, Elior Levy and Reuters contributed to this report