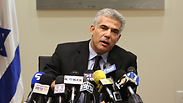 Photo: Gil Yochanon
Photo: Gil Yochanon
Unity agreement makes Abbas directly responsible for terror from Gaza, says Netanyahu
Prime minister reaffirms refusal to negotiate with Palestinian government that includes Hamas; Bennett slams Hamas-Fatah unity government as 'terrorists in suits' while majority of government urges caution; Abbas: We recognize Israel, denounce violence.
Netanyahu's security cabinet, meeting in special session after a new Palestinian unity cabinet was sworn in earlier in Ramallah, vowed to hold the new Palestinian Authority government responsible "for all operations that inflict harm against Israeli security" launched from either the West Bank or Gaza.

"The agreement with Hamas makes Abbas directly responsible for any terrorist activity from Gaza," Netanyahu said in a statement summing up the ministers' meeting.

Israel also reaffirmed its decision of a month ago to eschew diplomatic negotiations with any Palestinian government that includes Hamas, which Israel rejects as a terrorist group. Israel also vowed to seek international help to bar Hamas from participating in a coming Palestinian election.

The Israeli statement made no mention of possible economic measures though it empowered Netanyahu to impose further sanctions on the Palestinian Authority.

Yesh Atid Chairman Yair Lapid commented Monday the new development, saying that "In the upcoming weeks we will have to learn more about this government and see where things are going. This is not the time for incitement, but rather restrain."

His comments were echoed by many in the government, and came after Hamas and Fatah swore in the first Palestinian unity government since 2007.

Israel and the West classify Hamas as a terrorist organization and have no official dealings with the movement, which advocates the destruction of the Jewish state. But Palestinian President Mahmoud Abbas, whose Fatah party signed a reconciliation deal with Hamas in April, said a unity government could ease the way for Western engagement.

Related Stories

Prime Minister Benjamin Netanyahu has cited the unity deal as the reason US-brokered peace talks fell apart at the end of April, and has urged nations around the world not to accept to government.

Abbas has repeatedly attempted to quell the fears of the government, saying Monday that the Palestinians "are committed to what we said. Cooperation with Israel regarding security matters will continue."
Terrorists in suits
Lapid, a centrist, further said that "I suggest my friends in government not give Hamas the ammunition they need to turn the tides against us just for the sake of some local headline."

However Bayit Yehudi Chairman and Economy Minister Naftali Bennett called it "a government of terrorists in suits."

Bennett stressed that the "Palestinian agenda has smashed into the wall of reality today. The time has come to shift from defense to offence and do what is good for Israel."

However, he seemed in a minority as even hardliner Foreign Minister Avigdor Lieberman saying Israel needs to follow the developments in field, but claiming there was no need to make premature statements.

"There is no need to make redundant declarations. If something needs to be done then it will be done. I'm not getting excited by what's happening there now," the foreign minister told Ynet.

Environmental Protection Minister Amir Peretz (Hatnua) commented on the Palestinian unity government, and said that "the peace process has a strategic importance for Israel and therefore we should examine the current Palestinian government according to the orientation it takes.

"If it will announce it recognizes Israel and accepts past international agreements we must reexamine the possibility of holding talks with them, and not shunning them, which would only aid Hamas," Peretz said.

Meretz Chairwoman Zehava Gal-On also commented on the issue and said: "I call on the prime minister to see this reconciliation agreement as an opportunity to reach a diplomatic solution."

Gal-On further said that "Netanyahu's government's objection to the unity government is an excuse intended to derail peace talks. The demand that Abbas choose between Israel and Hamas once again portrays Israel as the side which refuses to give peace a chance."

Reuters contributed to this report.