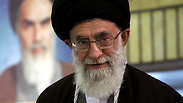 Ayatollah Ali Khamenei
Photo: Reuters
TEHRAN - Iran's supreme leader Ayatollah Ali Khamenei called for better ties with Gulf Arab nations during a rare visit Monday by the Kuwaiti emir, intensifying a push by Tehran to mend relations with the US-allied countries on the other side of the Persian Gulf.

Sheik Sabah Al Ahmed Al Sabah's two-day trip, which began Sunday, follows visits by Iran's foreign minister to his oil-rich nation and other Gulf Arab states in recent months. Moderate Iranian President Hassan Rouhani vowed to improve relations with Arab countries after he came to power in August.

Regional heavyweight Saudi Arabia and its smaller Gulf neighbors long have been wary of Tehran's influence in the region, and like their Western allies are concerned that the Islamic Republic's nuclear ambitions could lead to the development of atomic weapons. Iran says its nuclear program has only peaceful aims.

Related Stories

Relations between Shiite powerhouse Iran and the Gulf states have been further strained by the civil war in Syria. Saudi Arabia and other Sunni-ruled Gulf states have thrown their support behind the rebels fighting to topple President Bashar Assad's government, which is supported by Tehran.

Khamenei, who has the final say on all state matters, sounded a conciliatory note on the second day of the Kuwaiti leader's visit.

Iranian state TV quoted him as saying that regional security "depends on good relations among all countries of the region," and that differences between them will only benefit their common enemies. He expressed hope for "a new chapter" of economic relations between Iran and Kuwait.

Trade between the two stands at about $220 million, according to state television.

It was Sheik Sabah's first trip to Iran since he became emir of Kuwait, which has a sizable Shiite minority, in 2006.

Kuwait's first deputy premier and foreign minister, Sheik Sabah Al Khalid Al Sabah, described earlier talks between the emir and Rouhani as "constructive" and said it was important for countries in the region to have normal relations with Iran, according to the official Kuwait News Agency.

The emir is the second Gulf leader to visit Iran since Rouhani's election last summer.

Sultan Qaboos bin Said, the ruler of Oman - which has long sought to balance relations with both Iran and the West - visited in August. Rouhani reciprocated the gesture earlier this year.

Iranian officials have invited other Arab leaders to visit as well. Saudi Arabia last month extended an offer for Iranian Foreign Minister Mohammad Javad Zarif to visit the kingdom, though no trip has been confirmed.