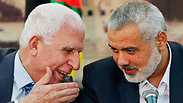 מפגש פיוס בין פתח ל חמאס איסמעיל הנייה הסכם
Photo: Reuters
WASHINGTON – The West is prepared to work with a new Palestinian government, US and European Union officials said Monday, despite Israeli concerns it gives power and influence to the radical Hamas movement.
Israel maintains Hamas is a terrorist group, and has angrily refused to work with a Palestinian unity government that would include Hamas members.
The US State Department announced Monday night that it planned to continue disbursing aid to Palestinians, after President Mahmoud Abbas swore in a new unity government earlier in the day which incorporated Hamas, a designated terrorist organization. Hours later, Secretary of State John Kerry called Israeli Prime Minister Benjamin Netanyahu to relay US willingness to work with the new leaders.
State Department spokeswoman Jen Psaki said that "based on what we know" President Barak Obama's administration intended to continue working with the Fatah-Hamas unity government.
Related Stories
Separately, in an Associated Press interview, the EU's top envoy to the US said Europe was prepared to work with a government backed by Hamas.
"We never said we would not," Ambassador Joao Vale de Almeida said. "It's a question of substance rather than the question of composition of the government."
Still, Vale de Almeida said Europe was insisting that the new Palestinian government recognize the right for Israel to exist and the need for a negotiated peace agreement with the Jewish state. Israel broke off nearly nine months of peace negotiations in April after Abbas endorsed the tentative unity government to end seven years of separate leadership in the west Bank and Gaza Strip.
"We are in favor of Palestinian recognition," Vale de Almeida said. "We think it's an important element in the process to bringing a long-term solution – but not at any price. It has to be based on respect for a certain number of values."
He said the EU would watch to see how the new unity government moved forward – a position echoed by State Department spokeswoman Jen Psaki.
Psaki said that Abbas promised to commit to the terms of the Quartet, and that the US will "evaluate the composition and policies of the new government and calibrate our approach accordingly."
The Quartet, a joint initiative of the European Union, United Nations, Russia, and the United States, demands an end to violence and that the Palestinians recognize Israel and all agreements signed with the Jewish state.
By law, US aid to the Palestinians may not benefit Hamas, which Washington regards as a terrorist group, "or any entity effectively controlled by Hamas, any power-sharing government of which Hamas is a member, or that results from an agreement with Hamas and over which Hamas exercises undue influence."
Annual US aid to the Palestinians has run at about $500 million in recent years, although it fell to roughly $440 million in the fiscal year that ended on Sept. 30, 2013, according to a Congressional Research Service report.