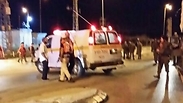 Attack at Tapuach Junction
Photo: Shomron Regional Council Security, Aviel Mamliah
A terrorist was killed late Monday night after he attempted to attack soldiers stationed at Tapuach Junction in the West Bank. One soldier was light-to-moderately wounded in his leg during the gunfire exchange and was evacuated to Rabin Medical Center in Petah Tikva.
An initial investigation revealed that an assailant armed with a gun approached the Border Police station at the junction and opened fire on the soldiers. A Border Policeman and a Nahal Brigade soldier charged towards the terrorist and hit him. One of the Border Policemen was wounded in his leg by a bullet. IDF reinforcements were deployed to the scene.
IDF Chief of Staff Lieut.-Gen. Benny Gantz also arrived at the scene, as he was only a few kilometers from where the incident occurred on an operational activity. Gantz spoke to the soldiers and Border Police personnel who were involved in the event.
Relatives of the terrorists, 30-years-old Alaa Muhammad Awad Audah from Nablus, denied the army's claim that he opened fire at the Border Police post.
They said Audah had a store selling mobile phones, and that he was at the junction awaiting a delivery of phones for his store.
According to Audah's relatives, when he got to the junction, he got out of the taxi that brought him there and went on foot to retrieve his shipment, to avoid traffic caused by the IDF's checkpoint. They claimed the IDF fired at him as soon as he got out of the vehicle.
One of Audah's relatives also said IDF forces raided Audah's home and those of his relatives at Hawara.
"The henious Israeli crime shows the whole world that the racist Netanyahu government continues its aggression against our people and our lands, and that it perpetuates the occupation, killings and construction in the settlements, instead of peace," Fatah, to whom Audah belonged, said in a statement on Tuesday morning.
"The martyr's blood was not spilled in vain, and he will increase our determination to rid ourselves of the occupation and form an independent Palestinian state with Jerusalem as its capital."
Avraham Greenshefen, an eyewitness, told Ynet: "I saw an Arab man lying on the ground. His vehicle was parked next to the Border Police station. A soldier ran to our window with a gun and told us to leave the place quickly. Afterwards more forces arrived to clear the area."
Related Stories
Last Friday, a 19-year-old Palestinian was arrested at the junction for attempting a suicide bombing. A Border Police force identified the man when he arrived at the junction wearing a long coat and acting suspiciously.
Border Police sappers successfully disarmed an explosive device found on his body.
Raanan Ben-Zur and Roi Kais contributed to this report.