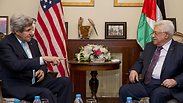 Sources in Jerusalem were surprised by Washington's quick and firm Monday night announcement recognizing the new Palestinian unity government.

Within hours of the security cabinet's decision to reject contact with the Fatah-Hamas administration and to hold Palestinian President Mahmoud Abbas responsible for terror emanating from the Gaza Strip, the US shocked its close ally by confirming it will support the new cabinet formed in Ramallah.

Jen Psaki

A senior diplomatic source admitted that the cabinet minister did not discuss the possibility that the US would act this quickly. The source said they expected a separate dialogue to continue between Washington and Abbas, while there would be a separation in the peace process between Fatah and Hamas.

Related Stories

"The fact that the US recognized the new government so quickly is a surprise. It's a blow to Israel and it is bad for Israel's image," he stressed.

Another Israeli source expressed disappointment by the State Department's comments. "The Palestinian government is supported by Hamas, which is a terror organization committed to the destruction of the state of Israel."

"If the American administration wants to promote peace, it must call on Abu Mazen to put an end to the agreement with Hamas and return to the negotiations with Israel. Instead, the administration is letting Abu Mazen believe that forming a government with a terror organization is acceptable," he said.

Another source, who was involved in the sensitive discussions of the last few days, noted that it is not unthinkable that the American decision was intended to punish Israel for its positions in the negotiations with the Palestinians – positions which the American administration believed led to a severe crisis in the talks.

In Washington, on the other hand, sources rejected such an explanation: "This is not about punishing Israel, that's a stupid assumption. We weighed our options, and we were not sure how to act until the unveiling of the government."

American sources were not sure why Israel was caught off guard by their statement of support, and reiterated that the US never rejected the possibility of recognizing the new Palestinian government.

"We said we would consider the possibilities after a government was formed," clarified an American source to Ynet on Monday night. But he also emphasized the administration's intent to closely follow events in the Palestinian Authority. "We will act cautiously," he said.