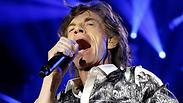 Opening the tour in Oslo
Photo: Gettyimages
Legendary rock band the Rolling Stones landed in Israel Monday evening in a plane branded with the band's logo.

Mick Jagger, Keith Richards, Ronnie Wood and Charlie Watts will perform in Israel for the first time at Yarkon Park in Tel Aviv on Wednesday.

Mick Jagger wasted no time and went out on the town only two hours after landing. He had a long, four-hour dinner at a private room in a trendy Tel Aviv restaurant, and only returned to his hotel at around 2:15 am.

The band arrived with an entourage of 70 family and crew members who accompany the Stones during their ON FIRE 14 European tour.

The summer tour started in Oslo and went on to Lisbon and Zurich before arriving in Tel Aviv.

Despite city laws imposing an 11 pm curfew on concerts at Yarkon Park, show producer Shuki Weiss announced that the show will start half an hour late, to allow those keeping the Shavuot holiday to arrive.

The Stones will take the stage at around 9:15 pm and play for two hours. The support act, Israeli rocker Rami Fortis, will take the stage at 7:45 pm.