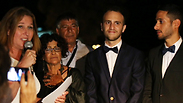 Tzipi Livni with Guy and Tzach at ceremony
Photo: Motti Kimchi
Justice Minister and Israel's chief peace negotiator Tzipi Livni presided over a same-sex civil marriage, despite the fact that Israeli law does not yet recognize gay couples.

Livni arrived Monday night at an event hall in Jaffa and married the couple, after the partners requested she participate in the ceremony and give them her blessing. The justice minister obliged and even spoke at the event, which was conducted in a Jewish fashion, despite the fact that the ceremony was not conducted by an ordained rabbi.




"I am not here as justice minister," Livni said, "sadly, I do not have the official legal authority to bind Guy and Tzach in a union recognized by the State of Israel – the county of their birth, for which they served in the army, and in which they want to live their lives together."

Livni lamented the legal situation in which gay couples' civil marriages are not recognized by the State, despite the fact that those conducted by heterosexual couples are.

"Despite my best intentions, I cannot promise that after this ceremony is done you will receive the full rights enjoyed by married couples in this country. But I have come here on the authority of my moral position, and to say that the time has come that the State accept any couple who has chosen to tie their fate together as a couple."

During the ceremony, Livni invited the grooms' mothers to say a few words, and then instructed the partners to exchange rings, which, she explained, are a symbol for their commitment to uphold their vows to one another. To conclude the ceremony, Livni orchestrated the traditional breaking of the glass under the wedding hupa (canopy), this time a joint-effort by both grooms.

Livni spoke of her contact with the couple, "when Tzach and Guy contacted me and told me their story I quickly noticed their experience was identical to that of any young couple at the beginning of their lives. The stories they shared with me reminded me of the beginning of my own marriage, which in the meantime has survived for three decades, and that is great. "

Livni also praised the couple, saying that "I was happy to learn that Tzach works for the Foreign Ministry and as part of his work he will represent Israel with Guy by his side, showing the world Israel's true face."




Livni also claimed that the ceremony was not incongruent with Jewish values, and certainly not an affront to them: "I believe that what I have been invited to do by Guy and Tzach is in no way a provocation meant to insult Judaism. We have true respect for this tradition, as we see and understand it, an open Judaism, which accepts people and respects them as those made in the image of God. That is why we have preserved elements of the traditional Jewish ceremony in our current ceremony."
Towards legal equality
Livni's participation in the event is likely to inspire criticism among certain members of the government and Knesset.

In addition to tensions regarding the peace process, the current coalition has also been strained by issues of State and religious, which have at time pitted centrist aspects (Livni's Hatnua and Yair Lapid's Yesh Atid) against the more right-wing members (namely Naftali Bennett's Bayit Yehudi and some Likud and Yisrael Beitienu MKs)

Livni also spoke about the state of legislation regarding same-sex marriages, as well as the changes needed: "In politics, there are those who veto the bills I propose which are supposed to allow (a State sanctioned) union to the people for whom the Rabbinate is an obstacle , thus allowing them to receive official recognition as a couple.

"In my opinion the State is not the authority of love, this is not a finite resource which needs to be regulated, no power in the world can veto love and stand before the will of a couple who has chosen to share their lives with one another… we are here to celebrate the cliché truth that 'love conquers all,' Livni said.

Two different initiatives to recognize same-sex marriage are currently stuck in the legislative process, and political sources describe a political equation according to which Yesh Atid will quietly allow settlement construction in return for support by the Bayit Yehudi to one of the two initiatives.

The Bayit Yehudi party tied its support of the bill to the condition it does not change the legal definition of marriage, but only allow same-sex couples to enjoy the same rights as heterosexual couples through different clauses in the law. However, sources in the party say that any headway made in this regard could threaten the coalition, as not all in the party accept this alleged deal.

Moran Azulay contributed to this report