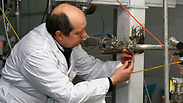 IAEA inspector at the Natanz nuclear facility.
Photo: AP
The US and its allies stuck to their demands on Wednesday that Iran clear up all suspicions it worked on nuclear arms if it wants full sanctions relief - suggesting a broad new accord isn't likely by a July target date.

The West wants any comprehensive deal to place strict, long-term constraints on Iranian nuclear programs that could be used to make atomic arms.

Tehran says its uranium enrichment program is a peaceful energy project whereas the West fears it is covertly oriented to developing a nuclear weapons capability. Western diplomats have long accused Tehran of stonewalling the International Atomic Energy Agency's investigation.

Related stories:

Despite claims it has no interest in nuclear weapons, Iran is negotiating with the US Russia, China, Britain, France and Germany on the nuclear curbs, and has provided some information to agency experts probing the suspected weapons work in hopes of an end to sanctions on its economy.

Western countries also pressured Iran to speed up its promised cooperation with the long-stalled UN nuclear watchdog investigation.

The United States, the European Union and others welcomed at a meeting of the International Atomic Energy Agency signs that Iran has begun engaging with the IAEA inquiry but they also made clear Tehran must do much more to fully address their concerns.




US officials say it is vital for Iran to resolve the IAEA's questions if parallel negotiations between Tehran and world powers on long-term settlement are to succeed. Those talks aim to set verifiable, civilian limits to Iran's nuclear activity and end punitive international sanctions imposed on Tehran.

The IAEA has long been investigating suspicions that Iran may have coordinated efforts to process uranium, test explosives and revamp a ballistic missile cone in a way suitable for a nuclear warhead. Iran says the allegations are false but has offered to help clarify them since pragmatist Hassan Rouhani took office as Iranian president last year.

The EU - which groups three of the six powers seeking to negotiate a settlement to a decade-old dispute with Iran over its nuclear program - noted that "some" progress had been made in the separate talks between Iran and the IAEA.

But, the 28-nation bloc added in a statement to a quarterly meeting of the IAEA's 35-nation governing board, "We call on Iran to provide all the relevant information to the agency, to address fully the substance of all of the agency's concerns and to accelerate its cooperation with the agency."

Canada's ambassador to the Vienna-based IAEA put it more bluntly, saying Iran was using a kind of "salami-slicing way" in its dealings with the UN watchdog.

"We are definitely of the view that Iran is moving too slowly to address these long-standing questions. They do need to move faster," Mark Bailey told Reuters.

Adding to the pressure, Group of Seven leaders meeting in Brussels this week are to call on Iran to cooperate fully with the IAEA and "resolve all outstanding issues", according to a draft statement read to Reuters by an EU diplomat.
July deadline unlikely
And with the long-delayed UN probe just starting to make some progress, Joseph Macmanus, the US envoy to the Vienna-based IAEA, called the July deadline "ambitious."

Macmanus said a resolution of the issues related to its investigation was critical and he urged Tehran to "further intensify its engagement" with the UN agency.

"Only with Iran's complete cooperation...would the agency be in a position to reach a conclusion regarding whether Iran's nuclear program is exclusively peaceful," Macmanus added.

IAEA chief Yukiya Amano said this week that neither side expected the probe to finish by July 20, suggesting it could stretch far later. He could not say if the probe would end by year-end, but added that Iran is cooperating "substantively" with it.

An Iranian official told Reuters, "We have to get rid of the sanctions immediately. Therefore, the talks will end when this issue is totally resolved. A few more months will kill no one." Pushing the deadline to October would be fine, he said.

In theory, an extension to the high-stakes talks should not be a problem if all sides want it. But US President Barack Obama would need to secure Congress' consent at a time of fraught relations between the administration and lawmakers.

A November 24 interim agreement signed between Tehran and world powers allowed for a six-month extension if more time was needed for a final deal to end sanctions on Iran and remove the threat of war.

An extension would allow up to half a year more for limited sanctions relief and limits on Iranian nuclear work as agreed in Geneva. To avoid an open conflict with Congress, Obama would want US lawmakers' approval to extend that sanctions relief.

The nuclear talks resume June 16.
Dispute over Busher fuel demand
The latest round of talks in Vienna last month ran into difficulties when it became clear that the number of enrichment centrifuges Iran wanted to maintain was well beyond what would be acceptable to the West. That disagreement, envoys said, can be measured in tens of thousands of centrifuges - the machines spinning at supersonic speed to concentrate uranium's fissile element.

Iran now has about 19,000 centrifuges, with roughly half of them in operation. Western diplomats say only about half of the number of machines operating would be acceptable, although it would depend on other factors of any long-term deal, including the extent of oversight by the UN nuclear watchdog.

Such a number could be a small fraction of what might be needed to fuel Bushehr.

Iran has also insisted it should be able to produce fuel for its Bushehr nuclear power plant, a demand that world powers are unlikely to agree to.

Iran's ability to produce enriched uranium goes to the heart of a decade-old dispute over its nuclear program as the fuel can be used both to power reactors and - if further processed - to make the core of a nuclear warhead.

"They expect to get capacity to fuel Bushehr and that's unrealistic," one diplomat from the group of six world powers in talks with Iran told Reuters.

"It gets you a very short breakout time," he said, referring to the time that would be needed to produce enough highly enriched uranium for one bomb.

Current UN Security Council resolutions demand Iran suspend all uranium enrichment, but it has refused to do so, saying its nuclear work is entirely peaceful. A new deal is likely to allow enrichment, but would aim to extend significantly the amount of time Iran would need to assemble bomb material if it chose to do so.

Iran's demand to make its own fuel for the 1,000-megawatt power plant may face resistance from Russia which built it and has a 10-year contract to supply the fuel, starting in 2011, something it wants to continue doing.

That might hurt Tehran's negotiating stance, which relies in part on Moscow's moderate approach toward Tehran compared to the West at the talks.

To reach a deal, the sides will also have to agree issues such as the future of other Iranian nuclear facilities and the speed and timeline of Western relief from economic sanctions.

One diplomat said that Iran had appeared to row back on its previous openness to resolve concerns over the heavy-water Arak reactor that the West fears could provide plutonium for bombs once it is operational.

At the May talks, Iranian officials appeared to suggest specific technical solutions that ran contrary to Western expectations, diplomats said. Iran has since publicly dismissed as "ridiculous" one solution that could allay western concerns.

As a result, the latest round of Vienna talks broke off last month with Tehran and Western powers accusing each other of being unrealistic.