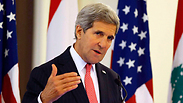 Will monitor Palestinian commitment to cooperation with Israel. Kerry.
Photo: Reuters
US Secretary of State John Kerry said on Wednesday the United States would work with the new Palestinian unity government "as is appropriate" but would be monitoring its commitment to continued cooperation with Israel.
Palestinian President Mahmoud Abbas swore in a government of technocrats on Monday in a reconciliation deal between his Fatah movement and the Islamist Hamas, which advocates Israel's destruction.
"We are going to be watching (the government) very closely, as we said from day one, to absolutely ensure that it upholds each of those things it has talked about, that it doesn't cross the line," Kerry said.
Related stories:
Kerry said Abbas had told him that the new government would be committed to principles of non-violence, negotiations with Israel and existing accords including cooperation on security.
He also defended Washington's decision to work with a new Palestinian unity government, saying none of its ministers has ties to the Islamic militant group Hamas, blacklisted as a terror organization by the West.
Israel wants the West to shun the technocrat government backed by rivals Hamas and Fatah. Prime Minister Benjamin Netanyahu says he is troubled by the US decision not to cut ties.
"Let me be very clear: the United States does not recognize a government with respect to Palestine, because that would recognize a state and there is no state," Kerry said. "This is not an issue of recognition of a government."
In meetings in Ramallah, Palestinian Prime Minister Rami Hamdallah urged the international community to pressure Israel to allow holding the upcoming Palestinian elections in East Jerusalem.
The new Palestinian unity government's main aim is to facilitate presidential and parliamentary elections to be held within six months, after which a permanent administration is set to take over.
"The prime minister reiterated the call of the Palestinian government to the international community to intervene and put pressure on Israel for the elections to be held in East Jerusalem," said a statement from Hamdallah's office.
"The government cannot guarantee the free and democratic nature of the elections without East Jerusalem," the statement went on to say.
Since the inaguration of the Palestinian unity government, Hamdallah has been holding meetings with foreign diplomats, including the head office of the Quartet of Middle East (UN, EU, Russia and the United States), Mark Singleton, and the UN coordinator for the peace process in the Middle East, Robert Serry.
Handover of government offices
In the Gaza Strip, Islamist Hamas handed control of two government ministries to members of the new Palestinian unity government, a further sign of reconciliation between the rival factions after the collapse of peace talks with Israel.

Palestinian Authority President Mahmoud Abbas swore in the cabinet on Monday in a deal with Hamas that elicited a US pledge to work with and fund the new administration, setting Washington on a collision course with Israel, which has shunned it.

Hamas, which advocates Israel's destruction, has run the Gaza Strip since seizing the territory from Abbas's Fatah forces in a brief civil war in 2007. Numerous past fence-mending efforts fell through over power-sharing disputes.

In Gaza, new cabinet ministers Saleem Al-Saqqa, a Gaza lawyer, and Mufeed Al-Hassayna, a US-educated engineer, took over from outgoing Hamas ministers respectively at the Justice department and the Housing and Public Works ministry.

The moderate Abbas, whose Palestinian Authority exercises limited self rule in the West Bank and depends on foreign aid, appears to have banked on Western acceptance of a 16-member cabinet of what he described as politically unaffiliated technocrats.

Ehab Bessaiso, spokesman for the new administration, said ministers in the West Bank had already assumed their posts and only two more ministries in Gaza remained for handover in the coming days.

But he said the new cabinet's ability to function would be harmed by Israeli curbs on officials wishing to cross Israel to travel between the two separated Palestinian territories and called for international help to press Israel to remove the ban.

"Restrictions on movement are an attempt to undermine the work of the unity government. It was the first declared step by Israel but it is a tough one and it will affect the mission of ministers so we call on the international community to compel Israel remove these unjust measures," Bessaiso said.

Setting a policy in line with US and European Union demands, the Western-backed Abbas said his new administration would continue to honor agreements and principles at the foundation of a peace process with Israel.

"The whole world has welcomed the new government, which includes neither Fatah nor Hamas members, and only Israel has stood against (it)," Bessaiso said.

The United Nations on Tuesday also lauded the formation of the Palestinian unity government and the European Union voiced preparedness to work with it.

Still, while no longer in government, Hamas will maintain ultimate power in Gaza. The unity government will tackle the day-to-day problems of Palestinians only. Decisions about diplomacy and security will be taken elsewhere, and no further peace negotiations are on the horizon.
Long overdue elections
Acting on the agreement with Hamas, Abbas called on the Central Elections Committee to "immediately" begin preparations for the elections. A presidential election was last held in 2005 and a parliamentary vote in 2006.

Political rifts between Hamas and Abbas's more secular Fatah faction worsened in 2007, when Hamas ousted Fatah from the Gaza Strip, and have repeatedly scuppered any chance of holding elections.

"I hope you (election committee) coordinate with the government, which will use all its capabilities to help prepare for a fair and free general election," Abbas said in a statement.

In an effort to regain trust among Gaza residents and the West Bank, Palestinian Prime Minister Rami Hamdallah asked his cabinet members to enable a gradual return of government employees in Gaza to their jobs. In 2007, Abbas's administration ordered them to boycott Hamas control of their offices.

The roughly 20,000 government employees appointed by Hamas since 2007 will now be vetted by a committee before they can be added to the new government's payroll. Meanwhile, 20,000 Hamas security men will have their posts reviewed by an Egyptian-led Arab security committee.

Reuters, AFP and the Associated Press contributed to this report.