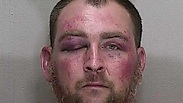 Florida police unveiled neo-Nazi paraphernalia owned by Dustin Heathman, a Florida resident facing 10 counts of attempted murder after a gun-fight with a Marion County SWAT team on Sunday, said a Tuesday report in the Ocala StarBanner.

According to the report, Marion County Sheriff Chris Blair revealed a helmet bearing a swastika along with a large stockpile of automatic weapons while the Southern Poverty Law Center's Hatewatch Blog claimed that Heathman (35) was also found in possession of neo-Nazi literature.

The suspect was taken into custody Sunday after firing more than 50 live rounds at a SWAT team answering a police call from Heathman's family members who said that he had stolen from them and was heavily armed, said the Ocala report.

Related Stories

Upon arrival at the scene, reports claimed that Heathman told interrogators that a gun-battle ensued in which he planned to kill as many police officers as he could before facing suicide by cop. Heathman apparently realized how serious the fully armed SWAT team was and gave himself up deciding that he didn't want to die.

Ocala reported that Heathman openly expressed his anti-government sentiments during questioning and said that he was trying to defend his Second Amendment right to bear arms.