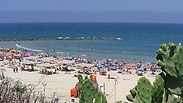 Netanya beach front
Photo: Courtesy of authorities and marinas participating in the program
A group of teenage boys age 14 to 16 and a 20-year-old man are suspected of robbing migrant workers in the Bnei Brak area. Police are also investigating whether the gang threw rocks at the workers out of xenophobia.

In a separate incident, young Israelis of Ethiopian origin attacked and robbed two Eritrean citizens at a Netanya beach.

Six youths and one 20-year-old were arrested Wednesday evening for allegedly robbing a migrant worker. According to the allegations, the migrant was waiting at a bus station in Bnei Brak when the gang approached him, assaulted him, robbed him, and then ran away from the scene of the crime.

Relate Stories

Police officers from the youth department searched the area and quickly arrested seven suspects for participating in the event. Police suspect that the gang was involved in similar cases of assaults on migrants, based on their modus operandi.

The 20-year-old suspect, with a large and imposing frame, would suddenly assault the victim while the rest of the gang would search his pockets and steal his cash. Afterwards, the suspects would meet up at a hiding spot to divide the bounty.

The teenage boys admitted to the charges brought against them during their investigation, explaining that migrant workers usually carried cash and could not identity who robbed them. Police are investigating similar incidents in Bnei Brak in which rocks were thrown on Sudanese workers; some of the suspects in the robbery also admitted to rock throwing.
Netanya attack
In the Netanya case, where Israeli youths of Ethiopian origin were suspected of attacking two Eritrean citizens, one 19-year-old male was arrested. During the investigation he claimed that the attack happened "as revenge for what the Eritreans did to the Jewish Ethiopians on their way to Israel."
While the two Eritreans were relaxing on the beach, they were approached by a gang of youths who attacked them, robbed them, and took their necklaces and wallet.
The police was called to the site and they located one suspect, Natan'el Avohi, 19, from Netanya.
The two victims identified the suspect at a police post at the beach and he was taken in for investigation. At first the suspect claimed the assault was a result of his wish to take revenge on Eritreans, but he later denied all allegations and claimed he was never at the scene.
The suspect's lawyer said his client denied all wrongdoing, said the stolen items were not in his client's possession, and asked for his release.
The judge on the case determined in her decision that "the suspect tied himself to the incident and admitted at first to a racial motive for the crime – and that is the danger emanating from the suspect." The judge extended Avohi's arrest by four days.
Police are continuing their investigation and attempting to locate others involved in the assault.
Raanan Ben-Zur contributed to this report.