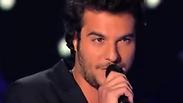 Lebanese call for boycott of Israeli singer
Amir Haddad took third place on French version of 'The Voice' and was supposed to perform with other frontrunners in Lebanon, but once Hezbollah's mouthpiece got wind of show they called for boycott: 'His voice is beautiful, but his history reeks of occupation.'
Israeli singer Amir Haddad is in the eye of a media storm after a near win in the French version of hit show "The Voice" slated him to perform in Lebanon, inspiring anger and calls by Hezbollah supporters to boycott his performance in Israel's northern neighbor.

At the end of the French version of The Voice – called La plus belle voix (The Prettiest Voice) – the program's winners and leading contests embark on a tour of the French speaking world. This year, the tour was set to take the group to Lebanon.

However, some in Lebanon were distraught to find out that among the troupe of singers set to arrive there was one Amir Haddad – an Israeli singer who took third place in the last season of French version of the competition, and, who like most Israelis, is a veteran of the IDF.

Hezbollah-affiliated network Al-Manar published a scathing piece on its website, which called on the Lebanese public to boycott Haddad's show and block his entrance into Lebanon.

"Soon you will be visited by an Israeli singer who has in the past served in the Israeli army for three years," the piece warned.

"This time he comes to sway you with his beautiful voice, but in the past his army sounded rockets, blasts, jets and warships to you and your children."

The story was given under the headline "Don't allow Amir Haddad to sully our land." The text then continued to quote Haddad as saying he proudly represents both Israel and France, with him stressing his dual-identity and how each holds a special place in his heart. The text ended with a call to action for its anti-Israeli readers: "Lebanese! Amir Hadad is among you. His voice is beautiful, but his history reeks of occupation, settlements and blood. Expel him!"

The boycott calls inspired angry responses from France's Jewish community, and, according to Haddad, from the show's production as well.

"The producers were very angry at the reports," Haddad told Ynet from his home in France."He personally told me he wants to cancel the scheduled shows in France – as far as he is concerned either all of us perform or no one performs." However, Hadad said that no official statement on the issues has yet to be released.

It is worth nothing, that unbeknown to Al-Manar, Haddad had not really planned to travel to Lebanon.

"I have an Israel passport, I served in the army – I never planned to go there. Not to mention my wedding is planned for the same time. It is unclear to me why they chose to publish the report when they did," he said.

Nonetheless, Haddad adds that it is disturbing that his army service is not public knowledge. "While I was on the program I never attempted to stress my Israeli identity. I am in a foreign country and didn't want to inspire angry responses. Now we will see what will happen. "