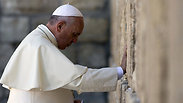 Pope Francis in Israel
Photo: AFP
Pope Francis on Thursday hailed the soldiers who fought "Nazi barbarism" in a message for the 70th anniversary of the D-Day landings in Normandy and voiced hope that European nations could recover their Christian roots.

In a letter from the Vatican to French Catholic leaders, the Argentine pontiff said that the commemoration "reminds us that excluding God from the lives of people and societies can bring nothing but death and suffering".

"European nations can find in the Bible of Christ, the prince of peace, the root of their history and a source of inspiration for establishing ties that can be ever more fraternal," the message said.

Francis praised "the numerous soldiers who left their country to land on the beaches of Normandy to fight against Nazi barbarism and free occupied France".

The Vatican said Francis "also does not forget the German soldiers dragged into this drama, like all victims of war".

D-Day veterans marched back to Normandy's beaches and villages on Thursday, in an emotional return marking 70 years since the launch of the biggest amphibious invasion in military history.

Royals, top brass and no fewer than 20 world leaders, including US President Barack Obama and Russia's Vladimir Putin, will attend the main D-Day ceremony on Friday.