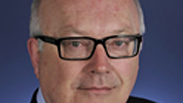 Australia's Attorney General George Brandis
Australian Prime Minister Tony Abbott's government has decided to drop the word "occupied" when describing Israel's settlements in East Jerusalem, Australian Associated Press reported Thursday.

According to the report, the government said it was "unhelpful" at a time when the peace process was still viable.

The move was announced following a fire debate in the Australian legislator regarding the legality of Israel's settlements, the press agency reported.

Australia's Attorney General George Brandis elaborated on the call, saying it was "unhelpful" to invoke history when speaking about the flashpoint area, citing what the Australian Associated Press called the ongoing Middle East peace process.

"The description of East Jerusalem as 'occupied' East Jerusalem is a term freighted with pejorative implications which is neither appropriate nor useful," Brandis reportedly said.

"It should not and will not be the practice of the Australian government to describe areas of negotiation in such judgmental language," the Australian Associated Press reported.

Attorney General Brandis was reportedly at the heart of the Senate debate the day before, when he said that no Australian government, regardless of political afflation, "acknowledges or accepts" the term occupied.

The comments sparked an intense debate, with opposition senators claiming the nation had supported UN resolutions which described East Jerusalem areas as settlements, with one claiming the move was effectively a "massive shift" in Australia's foreign policy.

Australia has not always had such a clear stance regarding Israel's settlements. The report cited former foreign minister Bob Carr expressing vocal criticism of Israel's West Bank settlements.