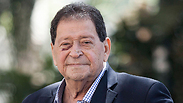 Labor MK Benjamin Ben-Eliezer
Photo: AP
Labor MK Benjamin Ben-Eliezer, one of the leading candidates for the presidency, was questioned by police under caution for five hours Friday over the funding of his apartment in a prestigious apartment building in Jaffa.

With just four days to go before MKs vote on a replacement for Shimon Peres, the race for the presidency, which Knesset Speaker Yul;i Edelstein himself said was characterized by mudslinging and attempts at delegitimization, appears to have turned even uglier.

Ben-Eliezer arrived at the headquarters of the Israel Police corruption unit (Lahav 433) at 10 am, and was questioned about money he received to purchase the apartment.

Ynet has learned that during the questioning, Ben-Eliezer was asked if the source of the funds was businessman Avraham Nanikashvili, a partner of Jacky Ben-Zaken, who was questioned earlier this month in the probe into corruption at Ashdod port.

Police launched the investigation at the request of Attorney General Yehuda Weinstein, who received information about the issue during the past week. After an initial investigation, police officers decided to call Ben-Eliezer in for questioning under caution.

Sources close to Ben-Eliezer said he was being investigated for issues that have been examined in the past.

In its response, Ben-Eliezer's office qquestioned motives behind the police investigation.

"The timing of the police investigation, four days ahead of the election for presidency, is strange. MK Ben-Eliezer arrived this morning, after being summoned only 20 minutes earlier, to provide all of the information that was requested. Ben-Eliezer has asked the relevant bodies to finish the investigation as quickly as possible and inform the public of the truth."

Ben-Eliezer, who previously lived in Rishon Lezion, purchased a penthouse in a luxury complex in Jaffa two years ago. The penthouse is estimated to worth some NIS 9 million.