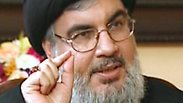 Hassan Nasrallah
Photo: AFP
"The Syrian swamp is swallowing the old and new guard of Hezbollah," said a Thursday report in the London based publication Asharq Al-Awsat. The report tried to explain how leaders of the Shiite terrorist organization, who once spent all their time fighting Israel, became bogged down in Syria's civil war against rebel forces.

The most recent incident that illustrates this is the laconic announcement that Fauzi Ayub, a senior Hezbollah commander, had been shot and killed in fighting with rebels.

Anti-climactically, Hezbollah satisfied themselves with the routine sentence repeated for every person who dies while serving the organization in Syria. "He was killed while fulfilling his duty to Jihad." It's a generic statement that ignores additional facts about Ayub's position and past in Hezbollah. According to sources within the opposition, he was killed in battles in Aleppo.

Related Stories

While Ayub was a senior figure with Hezbollah, he was also well-known in Israel and the US. A Lebanese-Canadian dual citizen, Ayub was arrested in 2002 by Israeli forces in the West Bank for training Palestinian militants to carry out terrorist attacks and prepare homemade explosives.

According to reports, he was under orders to help create a Hezbollah cell in the West Bank and was also part of a unit created by Hezbollah's Operations Officer at the time, Imad Mughniyah.

In addition, Ayub was wanted by the FBI for using a fake American passport to enter Israel to carry out a terrorist attack. Two years after his imprisonment in Israel he was released to Lebanon as part of a prisoner trade to bring home captured Israeli Elhanan Tannenbaum.

The report by the London paper in Arabic noted that in looking over the pictures of Hezbollah commanders who have been killed in Syria, it's easy to notice that the majority are older veterans who, more likely than not, took part in combat against Israel.

Commentators who were cited in the Asharq Al-Awsat report have come to the conclusion that this is, "a waste of human resources in Syrian territory," but on the other hand stressed that, "faced with the public loss of senior military figures, the organization's new recruits are gaining proficient fighting skills during battles in Syria."

Besides Ayub, the publication listed the names of three senior members of Hezbollah who were killed over the last year in Syria and also served in central positions when the organization was engaged in combat with Israel.

Mohammed Muntish, who was killed last April in an ambush set up by rebels on an Al-Manar news crew in the town of Maaloula near Damascus, was labeled by Asharq Al-Awsat as being in charge of Hezbollah's military PR. Hezbollah said that he was merely a cameraman at Al-Manar.

According to the paper, Muntish served in the same position since the days of Israel's occupation of southern Lebanon. On private websites closed to all but the terrorist organization, Muntish was said to have passed several courses in Jihad and administration in Hezbollah and took part in military actions against Israel before the withdrawal from Lebanon, earning praise from Hezbollah's leader Hassan Nasrallah.

Sources from within Hezbollah said that he had a key military role in the Second Lebanon War as well and documented the war for Hezbollah's military media wing.

Hassan Meri, another senior Hezbollah figure mentioned in the report, was killed six months before Muntish and his death preoccupied the organization. His specific actions remain unclear, but there have been claims that he held senior positions within Hezbollah.

Today, estimates claim that several thousand members of Hezbollah are active in Syria and more than 350 have been lost.