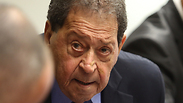 Benjamin Ben-Eliezer
Photo: Gil Yohanan
Benjamin (Fuad) Ben-Eliezer announced Saturday afternoon, as revealed in Ynet, that he would drop out of the running for election to the presidency after an investigation opened into his financing of his luxury Tel Aviv residence. Ben-Eliezer denied the allegations: "I am the victim of a targeted assassination."

MK Reuven Rivlin (Likud), who remains in the running, said: "I feel a great sadness for Fuad and the tough environment that encompasses the election for the presidency."

Former MK Dalia Itzik, another candidate for the office, expressed a similar sentiment. "I am very sorry for Fuad, who has accrued much credit in the significant roles in which he served. I hope he will prove his innocence."

Related stories:

She added: "This is not how we hoped the race for the presidency would roll out. Whoever is elected, their first mission will be to regain the public's trust in the office of president."

MK Meir Sheetrit (Hatnuah), who was also competing with Ben-Eliezer to succeed President Shimon Peres conveyed his support: "I wish for my colleague will be able to prove his innocence quickly. The current race for the presidency has, to my great sorrow, reached lows which are not fitting of the important and central office to the lives of the people and the state.

"I call on all the candidates to focus in the next three days left on the only issue that actually matters – who is the most fitting candidate, with the life experience and the proven record which make them qualified for the job."

Labor MKs will meet Saturday night in Tel Aviv for a special convention to decide on their chosen candidate for the election on Tuesday.

The MKs will decide on whether to support one of the five candidates left in the race – Rivlin, Sheetrit, Itznik, Dalia Dorner, or Prof. Dan Shechtman – or to allow the Labor members to vote individually according to their own preference.

Labor Chairman Isaac Herzog accepted Ben-Eliezer's decision to retire from the race. "I respect him and his decision and I hope the truth of the matter will soon see the light of day."

A friend of Ben-Eliezer's in Labor, MK Itzik Shmuli added: "I spoke with Fuad this morning and I heard a strong man hurt by the feeling that he has been dealt a great injustice. My efforts to convince him to try to delay the elections were unsuccessful; he told me that in his eyes he has a much bigger mission – to clear his good name."

Shmuli emphasized: "This is a man who gave his entire life to this country, and I hope that he can quickly refute this affair. I also hope the Attorney General will provide an answer as to the timing of the investigation – four days before the election."