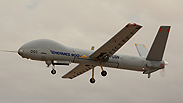 Elbit UAV
Photo: Elbit Systems
Private defense contractor Elbit Systems Ltd. beat out state-run rival Israel Aerospace Industries for a 968 million shekel contract to supply the Swiss army with new surveillance drones, Armasuisse announced Thursday.

Armasuisse, Switzerland's defense agency, said that Elbit's Hermes 900 HFE will replace its aging ADS 95 Ranger drones built by IAI, which have been operating since 2001, by 2020.

Drone Business

Asia-Pacific and Latin America contracts help Israel's largest publicly traded defense company beat analysts' estimates.

Switzerland had narrowed down the field of prospective purchases down to the offerings from Elbit and IAI back in 2012. But the announcement revealed a previously-unreleased configuration of the Hermes 900, one with a Heavy Fuel Engine.

The Swiss agency stated a preference to the Elbit drone over its direct competitor, IAI's "Super Heron", because it is "more flexible, has longer endurance in the air and wider operational range than the system currently in use."

The Heremes 900 HFE will allow Armasuisse to conduct operations in all weather conditions but the configuration to be purchased will be unarmed.

Armasuisse emphasized that "combat drones are not an option" and that the agency will extenseively explain the future use of the UAV before the Parliament is asked to approve the procurement plan in the 2015 defense budget.