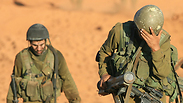 Illustration
Photo: Michael Kremer
Despite statements by senior officials in the defense establishment, who claimed the IDF will cancel a large portion of its scheduled reservist training sessions until the end of the year, Ynet was informed that – in many cases – the call-ups were only cancelled until the middle of next month.

At that time, the military is expected to assess the situation and decide whether to continue with the cancellations. The defense ministry will most likely weigh its options after a cabinet decision to be taken next week on whether to cut the defense budget or authorize an emergency injection of funds of more than 2 billion shekels.

Related stories:

But the people most inconvenienced by the situation are the reservist soldiers, who are left in the dark and are unsure if they should address the call-up they received, or if despite the public declarations the call-up was still in effect.

Hundreds of reservists who serve in the Jordan Valley received call-ups a month and a half ago for operational training in July and August. But the media reports of the last two weeks, in which senior defense officials announced that reservist call-ups were cancelled because the military lacked the funds, prompted the soldiers to clarify their status.

"We called up the commanders and officials in the Adjutant Corps (a subunit of the Manpower Directorate), and they all told us the reserve sessions were not cancelled, but that they might be, and they will let us know up to two weeks before the date.

"We all want to come to reserve duty, our attendance rates always near 100 percent, but how can a private citizen handle his affairs when they only inform him at the last minute whether he has to show up for a month of reserve duty or not," asked one soldier in the brigade.

"Some of us are salaried employees and our workplaces must make arrangements for such a prolonged absence," explained the soldier. "Others are self-employed people who need to make business appointments and figure out whether they need to find a replacement to manage their business."

"There are even students who don't know whether to cancel their preparation for exam period. Parents don't know what to do with their kids during the summer vacation and whether they can plan a family trip. Why do we have to pay for the public battles and the political spin?"