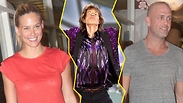 Refaeli, Jagger and Ezra
Photos: Anat Mosberg, AFP
Israeli supermodel Bar Refaeli and her relatively new boyfriend, businessman Adi Ezra, have split up, and the cause of the breakup is reportedly none other than Mick Jagger.

It all began at a party held Wednesday night in honor of the Rolling Stones at a Tel Aviv restaurant called Mr. & Mrs. Lee, shortly after the legendary band's performance at Yarkon Park. Refaeli also celebrated her 29th birthday during the party.

According to some of the partygoers, Refaeli and Ezra got into a fight after the supermodel apparently danced too close to the Stones' frontman.

Ezra was so infuriated by what he saw that at a certain point he reportedly grabbed Refaeli and pulled her off the dance floor. The couple then engaged in a loud argument in front of 150 people, including Jagger. They then left the event separately and have not spoken since then.

Over the weekend, the supermodel later got on a plane to Los Angeles with her father and little brother. Her mother, Zipi Refaeli, declined comment. Adi Ezra said in response that he does not comment on matters related to his personal life.