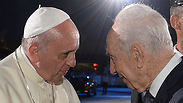 Peres with Pope Francis
Photo: GPO, Kobi Gideon
President Shimon Peres' trip to the Vatican on Sunday to meet Palestinian leader Mahmoud Abbas and partake in a 'prayer for peace' with Pope Francis is meant as an additional public blow against Prime Minister Benjamin Netanyahu before Peres enters retirement.

After the creation of a Palestinian unity government last week, the security cabinet decided to disengage from Abbas and impose sanctions on the Palestinian Authority.

Netanyahu will watch Sunday as Peres is welcomed in great pomp and majesty at the Vatican for a meeting called "a prayer for peace." In actuality, the meeting is a state affair in every which way.

Related Stories

This represents the second blow to Netanyahu's policy regarding Palestinian unity. The first came shortly after the swearing in of the new government in Ramallah with the announcement that the US government would continue to work with and financially support the Palestinian government despite the inclusion of Hamas, a terrorist organization.

One week after these events, at a time when Israel is under siege and at the height of political and international isolation, Peres, in spite of the prime minister, is going to personally meet Abbas to push for a renewal of the political process.

In opposition to Netanyahu, the president is of the opinion that despite the new government, the peace talks between Israel and the Palestinians must be renewed. In another few weeks Peres will retire, leaving his position as President, and he intends to use all his power of influence to promote peace talks between the two sides.

Those who know Peres believe that he will act to form a framework for an agreement in order to leave office with a legacy of peace.

Vatican officials insist no political agenda is lurking behind Pope Francis' invitation to the Israeli and Palestinian presidents to pray for peace together in the Vatican gardens.

They say no concrete initiatives are expected.

But Sunday's unusual summit – with Jewish, Christian and Muslim prayers intoned in the shadow of St. Peter's Basilica – could take on great significance on the ground. And it will certainly enhance Francis' reputation as a leader unhindered by diplomatic and theological protocol who is willing to take risks for the sake of peace.

"Peace is a gift of God, but requires our efforts. Let us be people of peace in prayer and deed," Francis tweeted. "Prayer is all-powerful. Let us use it to bring peace to the Middle East and peace to the world."