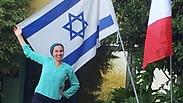 Despite the rosy unemployment picture painted by the Central Bureau of Statistics and Israeli Employment Service, the personal experience of many is that it's hard to find adequately paid work in the Israeli job market. For new immigrants, presumably, the task is that much harder. And yet, despite the challenges, a few individuals have left behind successful careers overseas to take a chance.

One such immigrant is Michael Friedlander, 41, who oversaw a financial team at one of Brazil's largest real-estate firms. One of his greatest difficulties here was building the kind of social and professional network that is so instrumental to the job hunt. "That is what I found most challenging. This country is small and friendly, but when you didn't attend the same high school or military service or university, there are differences to be overcome."

It took Friedlander about eight months to find a position as an analyst at Amdocs, with the help of a career development program offered by the non-profit organization Gvahim. The program includes workshops for learning about the local job market, personal counseling from HR consultants and professionals in your field, as well as hands-on assistance from a career placement staff.

"A good personal recommendation is worth 1,000 resumes," Friedlander says "Also, it's always good to get help from someone who's gone through the process – it helps you cope with the bureaucracy."

Today, Friedlander lives in Ra'anana with his wife Keren, who is also a new immigrant from Brazil. When he made the decision to move to Israel, the couple had been dating for two years.

"That made the decision even harder. We debated whether to make aliyah together or risk a long-distance relationship. Eventually we decided that I would come alone, learn Hebrew and find a good job. Three days after getting the job at Amdocs, I flew back to Brazil to propose. We got married and she came to Israel."

The desire to make aliyah had always been there, Friedlander says, but it necessitated giving up a clear economic future and cushy salary.

"It wasn't an easy decision," he concedes, "my main reason for coming is that this is where I want to raise children. I believe that you can build a career and develop yourself here as well as abroad. I am just as professionally ambitious as I ever was and even if the road is longer, it's not an impossible goal."
Losing high-quality workers
Gvahim was founded in 2006 by the Rashi Foundation, with the purpose of placing new immigrants with higher education and work experience in high-level jobs. The organization's executive director, Mickael Bensadoun, says that the greatest inhibitor of aliyah by successful professionals is the fear that they will have difficulty finding work. As a result, the Israeli economy loses high-quality manpower with work experience and international business connections.

"It varies by profession," he says. "Some have an easier time than others. Programmers and engineers, for instance, don't really need our help, but it's harder in areas like law or business administration, leading many people to try their hand at entrepreneurship."

"For instance, we know many lawyers who brushed up on Israeli law and passed the bar exam, but they can't even find an internship because the industry is flooded and law offices are not interested in them."

According to Gvahim, some 5,400 people immigrated to Israel in the last two years. About 45 percent of these can be defined as "highly skilled," in other words, possessing work experience together with more than 15 years of formal education. Among this group, 39 percent have 16 years of education, 29 percent have 15 years, 20 percent have more than 18 years and 13 percent have 17 years.

Of these highly skilled professionals, 17 percent work in engineering and the sciences, 16 percent have business experience, 11 percent studied social sciences or the humanities, 8 percent have medical training, 7 percent are lawyers and accountants, while 3 percent have experience in the public sector. The remaining 39 percent have professional experience in other areas.

Bensadoun relates that the organization collaborates with about 400 companies across various industries to place immigrants in jobs or internships, and Gvahim welcomes queries from additional companies. So far, Gvahim's career development program has 750 alumni, about 300 of whom have found work with Gvahim's direct help. In March 2014, McKinsey and Company found that 80% of Gvahim participants are employed in high-quality positions by the end of their program.
Earning less – with no regrets
Another one of Gvahim's programs allows Jewish "talent" from around the world to do a months-long internship at an Israeli company, in the hope that the company will offer them a permanent position. So far, 128 interns have taken part in the program, and 27 of them eventually made aliyah.
One participant was Esther Krief Dahan, 27, a food scientist who completed internships in the fields of agriculture, food and medicines. In France she had worked for a food import-export firm before taking a break to investigate the possibility of aliyah. With Gvahim's help, she found an internship with the food company Galam. The company eventually offered her a job and she decided to stay
While Krief Dahan never endured an arduous job search in this country, she definitely feels the difference between Israeli and European employers. For instance, she says, in France the salaries are higher and employee benefits are better in terms of vacation days and social benefits. Nevertheless, she is happy with her decision.
"I have no doubt this was the best decision of my life. The internship allowed me to develop professionally, to learn the language of our forefathers and to discover this country's richness. The job offer definitely spurred my decision to make aliyah. The rest happened naturally, with the invaluable help of my work colleagues, friends and family, who supported and encouraged me through the process. Today I have a really interesting job, I got married, and I'm happy to be living here."
'It's easier to hire and fire in Israel'
Gvahim offers yet another program called "The Hive" that helps immigrants and returning residents develop their start-up companies. The program offers participants a communal work space, legal and financial advice as well as help connecting with investors.

Sharon Mentlik, 41, found her current position through The Hive. She is VP Marketing & Strategy and Co-Founder of TrulyProtect, a company that develops defenses against cyber attacks.

Mentlik studied marketing and communications at the prestigious HEC business school in Paris, and later worked in France in marketing and business development. At one point, she managed a team of workers and oversaw a budget of 400 million euros. In 2011, she decided to make aliyah, mainly for "Zionist reasons," but also because she felt she had exhausted the possibilities of her current position. "The positive buzz and sense of innovation and risk-taking were no longer there, she said. "Israel was a clear choice. It combined my personal dream with finding myself professionally."

At first, Mentlik struggled to find positions in her field and worked as a consultant.

"Unlike in France, I had no connections, no familiarity with workplace culture and no one to help me." At one point, she joined Gvahim's career development program as well as "The Hive," where she connected with TrulyProtect, her current employer.

Mentlik says she finds Israeli employers to be more pragmatic and more "capitalistic in their mind-set."

"It's easy to hire someone and easy to fire them, while in France these are drawn-out processes. Employee social benefits are relatively low in Israel."

On the other hand she finds that there is almost no management in Israeli companies, in contrast with the strict management practices of large French companies.

"Work is less organized and it's not always easy to know what a specific worker's job is, which allows you to take more initiative and define your job yourself."
'If you don't sell yourself, you won't find work'
Gvahim's director, the French-born Bensadoun, 35, himself had trouble finding work when he immigrated to Israel in 2001 with a master's degree in international relations from Columbia University. In Israel, he completed a doctorate in political science and dreamt of working for the Foreign Ministry. But Bensadoun had trouble finding employment that paid a living wage, and he contemplated returning to France.

"I had objective difficulties because I knew no one and ran into cultural and language gaps," he relates. "For instance, in France people respect modesty. Here, if you don't sell yourself, you won't find work. It's a totally different style of self-expression."

Bensadoun eventually managed to find employment with the Rashi Foundation, with the help of a distant relative he met by accident. "When you have a good first opportunity, you can thrive, but someone has to give it to you."

Over the years, Bensadoun rose to the position of the foundation's director. Today he lives in Tel Aviv with his wife, whom he met in Israel, and his two children.

"I was happy to be given the opportunity to help others, so that they don't have to go through what I went through. In such a small country, people with international connections are an asset, but when they don't get that first opportunity, the country loses them."

Bensadoun adds that contrary to the popular perception, there are advantages to the local job market over Europe.

"We love to whine about this country, but in France people can't find work," he says.

"On the other hand, many newcomers, even highly skilled ones, don't grasp how the cost of living compares to salaries. Sometimes they are pleasantly surprised, as in the high-tech sector, but other times they are disappointed.