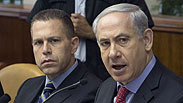 Netanyahu at the cabinet meeting
Photo: AFP
Israel's cabinet on Sunday approved a bill that would allow a judge to sentence a convicted killer, in cases of particularly heinous murders, to life imprisonment without the possibility of parole.
The contentious piece of legislation passed with 15 votes in favor and 5 against.
Last week, Prime Minister Benjamin Netanyahu delayed a Knesset vote on the controversial bill, deferring it to the next cabinet meeting, after Attorney General Yehuda Weinstein said that the bill contained "legal difficulties" in the language of the text that would need to be cleared up and ironed out.
After the bill was approved by the cabinet, Bayit Yehudi Chairman Naftali Bennett said "this is a small legislative step, and a giant step in the war on terror. Today Israel becomes a little more moral, a little more just."
He also said that "against a Palestinian unity government of terror, we reply with the Zionist answer: We will be the government that fights terror."
MK Ayelet Shaked (Bayit Yehudi), who initiated the legislation, added that "the bill tries to prevent extortion by terror organizations in 'political deals' and the release of criminal murderers who get relief in the conditions of their incarceration."
Attila Somalvi contributed to this report.