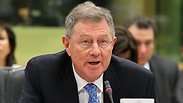 GAZA CITY - A United Nations envoy became the first senior international official Sunday to meet with ministers of the new Palestinian unity government in the formerly Hamas-ruled Gaza Strip, assuring them of UN support.
Robert Serry's visit to came despite repeated Israeli appeals to the international community to shun the unity government, which is backed by rivals Hamas and Fatah.
The West considers the Islamic militant Hamas a terror group but appears to have accepted assurances by Palestinian Authority President Mahmoud Abbas, the leader of Fatah, that the new Cabinet will follow his non-violent program.
Related stories:
Abbas swore in the 17-member technocrat government last week, more than a month after the collapse of a nine-month attempt by US Secretary of State John Kerry to broker an Israeli-Palestinian peace deal.
The unity government replaces two separate Palestinian administrations - one in Gaza run by Hamas and the other headed by Abbas in the autonomous parts of the West Bank. The split between the long-standing rivals broke open after Hamas overran Gaza in 2007, wresting control there from Abbas.
In addition to the UN, the United States and the European Union have also said they would give the new Cabinet a chance, provided it is committed to three rules - renouncing violence, recognizing Israel and adhering to previous Israeli-Palestinian agreements.
Serry met Sunday with four Gaza-based ministers of the new Cabinet.
"I assured them of the full support of the United Nations, which is ready to increase its considerable program of works in Gaza, including in the priority areas of water and energy," Serry said in a statement.
He called for lifting a border blockade that has been enforced to varying degrees by Israel and Egypt since the Hamas takeover.
Mofeed al-Hassaina, the new housing minister, said the meeting was important "because it reflects the international recognition of this unity government."
However, many difficulties lie ahead.
Abbas and his Hamas rivals haven't worked out the next steps toward reconciliation, including who should pay the salaries of more than 40,000 government employees hired by Hamas since 2007. It also remains unclear if Hamas will accept Abbas' demand that forces loyal to him be deployed at Gaza's border crossing with Egypt as a way of easing the blockade.