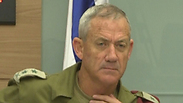 IDF Chief of Staff Benny Gantz
Photo: Eli Mandelbaum
IDF Chief of Staff Lt. Gen. Benny Gantz emphasized the threat Hezbollah poses to Israel, saying that the Iranian-backed radical Lebanese group possesed more military might than almost all of the developed nations of the world.
"Show me four or five states with more firepower than Hezbollah: the US, China, Russia, Israel, France, the UK," Gantz said in an address at the annual Herzliya Conference.
"The bad news from our point of view, is that while Hezbollah is fighting on three fronts... it is also amassing experience which we will one day face."
The IDF chief also said that Syria was disintegrating "like a house of cards" and that the situation provided Israel with no good outcome.
He also emphasized the threat posed by the government in Tehran: "It is important to ensure that Iran never reaches the threshold of nuclear weapon capacity."