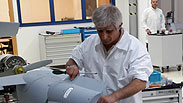 The Harop in production
Photo: Yoav Zitun
Meet Harop, the "suicidal" unmanned aerial vehicle (UAV) produced by Israel Aerospace Industries (IAI) in their factory in central Israel.

Harop is one of the most advanced and accurate weapons systems in the world, and has the ability to fly for hours before crashing into its target much as a conventional missile would. Officials at IAI claim that production takes just two weeks, including delivery to their customers, which include several foreign militaries who have reported a number of successful operations using the UAV.

The IAI factory recently began production of an even more accurate version of Harop along with an accompanying launch vehicle which increases the operational flexibility of the missile masked as an airplane.

This flexibility was demonstrated by a single strike on a building similar to those typically used as operational headquarters by Hezbollah in southern Lebanon, and through a direct hit on a target on a boat out at sea.

The UAV can remain airborne for hours until it dives and destroys its target, after having received an order from as far as 1,000 kilometers away.

Related Stories

Hundreds of units have reportedly been sold by IAI, including some with an attached electro-optical camera capable of penetrating kilometers through the dark of night and severe weather conditions.

The nose of Harop contains 10 kilograms of explosives which detonate on impact and can be launched from a wide variety of platforms, including a truck or missile ship, multiplying its potential range.

As soon as Harop is fired its wings unfold and flight begins, making it impossible to cancel the assigned mission. Besides having the ability to lock onto certain targets itself, operators have the ability to select specific targets both static and mobile.

The production line for the Harop is no bigger than a basketball court and includes a few central stations where the camera, engine, and explosive warhead are added onto the product. Finally, the engine is turned on for a check before the UAV is packaged up and sent out.