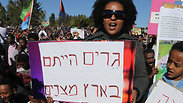 'African infiltrators have no halachic affiliation to the Jewish people' (archives)
Photo: Gil Yohanan
Dozens of Eritrean and Sudanese infiltrators residing in Israel illegally have requested to convert to Judaism in the past year in a bid to receive a residence permit and perhaps even an Israeli citizenship, Ynet has learned.

Their requests were rejected out of hand by the Conversion Authority for failing to meet preconditions.

Refugee Problem

Children of South Sudanese refugees who grew up in Israel face uncertain future in Uganda with new language and culture.

According to figures compiled by the Ministry of Religious of Services, dozens of Africans tried to begin a conversion process, and most requests were made when the infiltrators' problem was at the center of the public and media's attention.

A ministry official estimates that the immediate refusal made the entire community realize that it would not find a solution to its distress that way, and the number of requests soon diminished.

"The government built a fence in the south, on the state's border, and we built one here, at the entrance gate to the Jewish people," Shmuel Jeselsohn, head of the State Conversion Authority, told Ynet. "That's why even when there are infiltrators seeking to convert – it's not a phenomenon."
Rejected without discussion
According to Jeselsohn, until a few years ago there were no precondition for conversion, so that "everyone who was deported or banned entry to Israel would immediately knock on the door, and we had to summon them for an interview and start a process.

"This has been stopped," he added, and now foreign nationals are required to fill out a form requesting a conversion, which is discussed together with Justice Ministry representatives. If the request is filed by an illegal resident, it will be denied immediately.

Yet religious sources have expressed their fear that the state will regularize the status of African infiltrators in the future and allow them to reside in Israel. In such a case, they will have the legal right to convert, despite the fact that they have no halachic affiliation to the Jewish people.

"The stories we hear from the religious courts, that they allegedly abuse converts, will pale in comparison to what we are expected to see with the Africans," a Conversion Authority source told Ynet.

"Today we are still talking about immigrants from the former Soviet Union, who in the worst case are assimilators of Jewish descent, and so we are still lenient with them. But here we are talking about tens of thousands who want to assimilate into us and have no connection to Judaism."
Appeals received from Palestinians too
Jeselsohn says the tension between the civil law and Jewish Law is built into the conversion issue, but is hardly witnessed these days.

Jeselsohn offers one example: "A while ago I met a woman with a head cover, who obviously maintains a very religious lifestyle and really wants to be part of the Jewish people. But then it turned out that several years ago she tried to enter Israel without a permit, and so legally she must not be converted."

Today, the exceptions committee allows the Conversion Authority to begin the process for a person who fails to meet the preconditions only in very rare cases. According to Jeselsohn, "We are occasionally approached by Palestinians who experience problems entering Israel."

He recalls an amusing incident when a Bedouin who began taking Judaism lessons called to inquire why he was not receiving an allowance like any other yeshiva student.