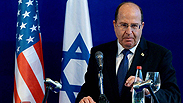 Israel has successfully managed to take peace negotiations with the Palestinians off the agenda, Defense Minister Moshe Ya'alon said Tuesday, echoing a stance repeated of late by hawkish members of Prime Minister Benjamin Netanyahu's government.
"We have succeeded in taking (peace) negotiations off the agenda," Ya'alon told the audience during his address at the prestigious Herzliya Conference. The defense minister seemed to take responsibility for what has reportedly been perceived in the US as Israeli indifference to the recent round of American-brokered peace talks.
Ya'alon further placed the onus of the talks' collapse on the Palestinians, saying "the Palestinian Authority, considered to be moderate, denies our right to a national homeland. Whoever fails to understand that does not understand the conflict."
Related stories:
In a veiled reference to the diplomatic program laid out by Finance Minister Yair Lapid Sunday evening, in which he claimed Israel should focus on delineating final border arrangements with the Palestinians, Ya'alon said "the Palestinian would be more than happy to talk about maps, because in such a state they only receive without having to give anything."
Slamming the Palestinian unity government, Ya'alon described it as a "guise" concealing a "Hamas takeover of Judea and Samaria." He further predicted that the unity government would lead "to the same situation as in Gaza," a situation he described as "insufferable".
Regarding peace itself, Ya'alon said "I hold human life more dear than land, but instead of peace-for-land we got peace-for-terror and peace-for-rockets in Gaza."
Ya'alon further dismissed claims regarding Israel being an apartheid state, calling such claims "nonsense".
Ya'alon's comments are the latest in a chorus of similar statements indicating that hawkish Israelis, namely from the Likud, no longer view peace or even the peace process as a strategic Israeli asset.
On Sunday, on a panel which hosed the heads of all of Israel's major parties, Likud strongman Interior Minister Gideon Sa'ar blasted parties from both the left and the right for their adamant positions regarding the peace process, saying "there is no basis for the position that there is something bad with the status quo".
The comments go a long way in explaining the Israeli administration's lackluster treatment of the peace process, reluctantly participating and jumping ship at first chance. It is worth noting the Palestinians, for their part, have also seemed to embrace a similar position, albeit possibly just in relations to a Netanyahu-led government.
Before Sa'ar, Netanyahu's former national security adviser, Ya'alon Amidror, said as much, claiming peace with the Palestinians would do little to nothing in regards to bettering Israel's strategic relations in the region.
Ya'alon has in the past expressed skepticism of the talks, led by US Secretary of State John Kerry, reportedly calling Kerry "messianic" and "obsessive."
In January, Ya'alon was quoted as saying in private conversations that "in reality, there have been no negotiations between us and the Palestinians for all these months – but rather between us and the Americans. The only thing that can 'save us' is for John Kerry to win a Nobel Prize and leave us in peace."
Ya'alon, who was IDF chief of staff from 2002-2005, at the height of the second intifada, also has little regard for the US-devised security provisions for a post-peace region.
"The American security plan presented to us is not worth the paper it's written on," Ya'alon was quoted as saying in January. "It contains no peace and no security. Only our continued presence in Judea and Samaria and the River Jordan will endure that Ben-Gurion Airport and Netanya don't become targets for rockets from every direction. American Secretary of State John Kerry, who turned up here determined and acting out of misplaced obsession and messianic fervor, cannot teach me anything about the conflict with the Palestinians."