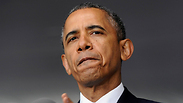 WASHINGTON – US President Barack Obama congratulated Reuven Rivlin on his election as the 10th president of the State of Israel.

"President-elect Rivlin has a long and dedicated record of public service and we look forward to continued strong ties, to the benefit of both our nations, under Mr. Rivlin's presidency."

In a statement released after the election, the American president, whose administration's relationship with Prime Minister Benjamin Netanyahu's government has been marred by a series of public disagreements between the countries' senior officials, emphasized the strong ties between Israel and the US.

"Over more than six decades, the United States and Israel have developed a unique relationship based on shared democratic values, our unshakeable commitment to Israel's security, and our partnership in scientific research and innovative technology."

Unlike the lukewarm relationship between Obama and Netanyahu, the US president and his Israeli counterpart have enjoyed friendly and cordial relations.

"As President Shimon Peres nears the end of his term, he can look back on a remarkable legacy of courage, conviction and compassion. He has dedicated his extraordinary life to the cause of peace, and I look forward to welcoming him in Washington later this month where he will receive the Congressional Gold Medal."

In 2012, Obama presented current Israeli President Shimon Peres with the Presidential Medal of Freedom, the highest civilian award the US government can bestow on an individual. Peres repaid the honor by presenting Obama with the Presidential Medal of Distinction, Israel's highest civic award, during the American's visit to the Jewish State in 2013.