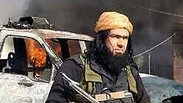 ISIS terrorists take over Mosul, Iraq
Photo: AP
The regime of Syrian President Bashar Assad said Wednesday it is willing to help Baghdad in the fight against "terrorism", a day after jihadists overran Iraq's second city Mosul.

"The foreign-backed terrorism that our brothers in Iraq are facing is the same that is targeting Syria," said the foreign ministry. Damascus is "ready to cooperate with Iraq to face terrorism, our common enemy", it said in a statement.

The Islamic State of Iraq and al-Sham is a radical jihadist group operating in Iraq and Syria. It aims to establish an Islamic emirate stretching across the two countries' borders.

ISIS militants spearheaded a jihadist offensive on Tuesday that claimed the province of Nineveh and its capital Mosul, as well as other parts of northern Iraq.

Assad also commented on the Brussels Jewish Museum shooting, and said in an interview to Lebanese daily Al-Akhbar that "the West (now) embraced my statements (about in house terrorism) because it felt first hand that terrorism has reached its doorstep."

"The West can't reverse its previous deeds and change the equation – all weaponry, lethal or not, including anti-aircraft systems, are already in terrorists' hands for some time now," Assad added.




In Syria, ISIS controls large swathes of the oil-rich province of Deir Ezzor, which borders Iraq.

"This terrorism is a threat to peace and security in the region and the world," said the Syrian ministry, calling on the UN Security Council "to decisively condemn these terrorist and criminal acts, and to take action against the countries supporting these groups."

In Syria, the regime has systematically branded peaceful opponents, rebels and jihadists alike as "terrorists" backed by the Gulf.

But rebels and dissidents opposed to President Assad's regime have turned against ISIS because of their quest for hegemony and systematic abuses.