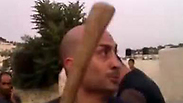 A violent altercation erupted between Arabs and Jews in Jerusalem when a haredi teen urinated on a tree near a house in the Arab village of Silwan, and in return was hit with a baseball bat by one of the neighbors.

Last week, a group of haredi teenagers were walking down Ma'ale Shalom street towards the Western Wall, when one of them stopped to relieve himself on a tree near the home of Yussef Hulyesi.

Hulyesi complained to the teenager, but when the latter ignored him, a brawl broke out.

One of the participants at the brawl documented it with his cell phone. In the video, Hulyesi is seen hitting one of the haredi teenagers in the head with a wooden baseball bat.

The teen suffered fractures to his skull, a cut in his scalp and an intracranial hemorrhage. He was hospitalized in intensive care.

Attorney Mohammad Mahmoud, whose client Hulyesi was indicted, said: "This is a group of teenagers that came to the scene in order to commit a price tag attack. They have no reason to be there. The blow didn't hit his head. Police continues defending price tag perpetrators, and will continue to do so until a disaster strikes."

Attorney Itamar Ben-Gvir from the Honenu organization, who represents the haredi teens, said that "it is regrettable that the prosecutor didn't see fit to indict the accused's friends as well, who are clearly seen in the video aiding him in his racist crime against Jews, simply for being Jews."