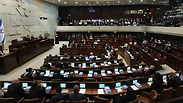 The Knesset chambers
Photo: Gil Yochanon
Israel's parliament gave initial approval on Wednesday to a law that would prevent the release of any Palestinian prisoners jailed for murder in connection with an attack in which children were killed.

The measure, backed by the government and introduced by far-right lawmakers who objected to the freeing of dozens of Palestinian prisoners during peace talks this year, passed by 36 votes to 20, but must still be approved in four more parliamentary votes before becoming law.

It would entitle judges to determine in sentencing that a Palestinian defendant jailed for life for murder committed during an attack should not be eligible for pardon or any other easing of his sentence.

Related Stories

Current Israeli policy allows for prisoners to win early release by receiving a pardon at the state president's discretion. The new measure would limit the president's powers to grant such pardons.

Ofir Akunis, a deputy minister in Prime Minister Benjamin Netanyahu's cabinet, endorsed the measure in a speech, drawing attention to "massive objection" in the United States to its swap this month of five Taliban detainees to free Sergeant Bowe Bergdahl.

"Freeing terrorists doesn't bring peace but distances it and only brings more terrorism," Akunis said.

Israel freed dozens of Palestinian prisoners under a deal achieved by US Secretary of State John Kerry last year to renew peace talks with the Palestinians, which collapsed in April in mutual recrimination.

The Palestinians accused Israel of failing to release about two dozen men it had promised to free by the end of March, while Israel protested at a Palestinian unity deal forged in April with the Islamist Hamas, which Israel shuns as a terrorist group.

Israel has freed hundreds of Palestinian prisoners in past swaps for captured soldiers. In 2011 more than 1,000 went free in exchange for Gilad Shalit, held in Gaza for more than five years.