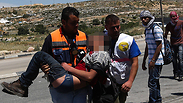 Palestinians killed on Nakba Day
Photo: EPA
The body of a Palestinian youth who died last month while protesting on Nakba Day was exhumed Wednesday for an autopsy whose official findings were passed onto Ma'an News Agency by a source close to the matter who said that tests concluded that it was a live bullet that killed the 15-year-old.

Ma'an reported that the autopsy of the Palestinian teenager, Nadim Nuwara, was performed in the presence of doctors from around the world to ensure objectivity. Danish, Portuguese, American, and two Israeli specialists were in the room as doctors recovered pieces of a bullet still in Nuwara's body.

Nuwara was killed along with another teen, Muhammad Audah al-Thahir who was 17-years-old. The two were taking place in Nakba Day protests when witnesses claimed that IDF soldiers fired on the protesters.

Related Stories

The incident, which was caught on security tapes and scrutinized internationally, was downplayed by the IDF who claimed that soldiers had fired rubber bullets that had killed the boys in riot prevention measures. Doctors who cared for the two upon their arrival at a local hospital stated that rubber bullets could not have made the wounds they saw on the two teenagers.

The report from Ma'an News Agency said that samples of the bullet pieces found in Nuwara's body were extracted for testing. An official report is expected to be released in the coming days that will include the results of testing on the bullet fragments.