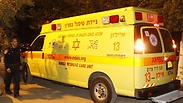 Rescue personnel at the scene of the murder
Photo: Yossi Aloni, Yedioth Ahronoth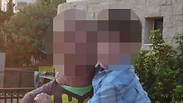 A man from the central region walked into a police station Wednesday night and confessed to stabbing to death his two children, a girl of 14 and a boy of 11. The two children had arrived in Israel on Wednesday from the United States, where they lived with their mother. Their mother has been informed of their deaths and is on her way to Israel.
The man, from Moshav Yashresh in central Israel, walked into the police station in the city of Ramle and told officers that he had murdered his two children. Police who went to his home found the bodies of the two children. Magen David Adom emergency personnel pronounced both children dead at the scene. MDA spokesman Zaki Heller called the scene "horrifying", and said the children were already dead when paramedics arrived.
The father was taken for questioning at the police station, where officers are attempting to understand what led him to commit the murder. Israeli media reported that police suspect the murders may have been to revenge his ex-wife for divorcing him.
Sub-Commander Yehuda Ben-Atar, head of the local police force, called it "a tragic incident." He said the circumstances of the killings were under investigation.
Ben-Atar said that a domestic violence charge had previously been made against the father in the past.