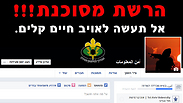 Message sent to soldiers: 'The network is dangerous. Don't make it easy for the enemy'
Dozens of soldiers and officers from IDF'S Information Security Department sent hundreds of fabricated messages in Arabic through social networks to soldiers who published sensitive military information, pictures or posts on their personal Facebook and Instagram accounts. The online operation's aim was to raise awareness of the dangers of posting information that can end up in unwanted hands.
The operation, run by the IDF and the Information Security Department within Military Intelligence, was drafted in the wake of multiple cases of soldiers posting images online that revealed classified information.
Related stories:
"The operation is legal and intended only for public profiles; we are not hacking pages or accounts," a senior source in the Information Security Department told Ynet. "We will not punish any soldier, but simply explain what is allowed and what is forbidden, and warn him with a 'Like' (comment and link) on the picture that he uploaded, for everyone to see, in Arabic.
"We believe that out of curiosity, the soldier will translate the sentence and read the message, which says: 'IDF's Information Security Department today, the enemy tomorrow.' Clicking on the link will then lead him to regulations and warnings about the appropriate use of social networks."
According to the source, "the Iranian-Syrian-Hezbollah axis keeps an eye on the IDF not only through classic measures that were used in the past such as wiretapping. In the past two years, they have been running a shared axis in which they exchange IDF intelligence collected through the cyberspace and by tracking soldiers' social networks."
The source further explained that "the protection of the information became critical, especially in the North," where data collection efforts were "significant".
The Information Security Department prohibits soldiers and officers serving in sensitive positions from posting pictures of themselves in uniform on Facebook, and in certain rare cases they were forbidden from posting photos showing their faces. However, the vast majority of soldiers and officers are allowed to post images of themselves in uniform and identify themselves as IDF soldiers.
"It would be unnatural and wrong to ignore the existence of social networks; today they are used by senior officers as well," sources in Military Intelligence said. "We will conduct similar operations in the future for soldiers of all units."
The Information Security Department say that the past year has seen a decline in the numbers of cases in which soldiers posted classified information online.
However, a soldier was recently sentenced to 10 days in prison after he posted on Facebook a photo he took of his unit's radio frequencies. Another soldier was punished after he "checked in" on Facebook at his division's military base.