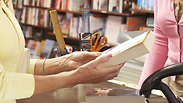 'Content is international and has no boundaries, so stories and books build a bridge'
Photo: Shutterstock
An Israeli, a Persian, a Pakistani and a Lebanese meet at a fair. This may sound like the start of the joke, but it's completely real and it has been happening for several years now at international book fairs around the world.

These meetings have a clear and quite surprising outcome: Books written by Israelis are sold and read in Iran, Lebanon and Pakistan.

Literature

Retired spy Mishka Ben-David, who avoided authorial limelight as he embarked on career of surveillance and subterfuge, talks about benefits and drawbacks of taking creative inspiration from real-life espionage.

But commercial ties are not the only thing born there, says Netanel Semrik, founder and CEO of the Contento De Semrik publishing house. These are simply human ties, which the relations between the countries sometimes conceal. It seems that culture has succeeded where politics has failed.

In a recent international book fair in London, for example, an Iranian publisher insisted on posing for a selfie with the Israeli publisher. "He took one picture after another, until he was satisfied," Semrik recalls, refusing to reveal the Iranian's identity for fear for his life.

"I asked him if we could shoot a video interview for Contento, and he smiled as if he had a secret and then said to me: 'You know, the Israeli Mossad is the best secret service in the world, but you know who is the second best?' I asked him, 'Who?' And he replied, 'The Iranian intelligence service.' He said it in a tone reserved for a strong punch line which should not be said out loud, and suggested: 'Let's keep the recorded interview for a future meeting.'"

"The special thing is the cultural and literary debate between human beings," Semrik adds. "When we run into each other at book fairs, it's immediately clear to them that we're from Israel – so it starts with a deep breath, continues with a handshake and a thorough examination of the books we represent, and eventually, like with any other agent or publisher from a friendly country, it reaches a direct conversation, up to the point that they even feel comfortable enough to speak against their government and about their desire to live more openly and democratically."

And what makes this connection possible, Semrik explains, is the books. "The content is international and has no boundaries, so the stories and the books build the bridge. In such events Israelis, Chinese, Iranians and others are very curious to get to know each other."
Talk to me in Persian
In an era in which the number of readers is dwindling, Contento De Semrik, which generates millions of shekels in annual turnover, has managed despite this trend to pave its way to book markets around the world.

The publishing house has signed distribution, marketing and translation contracts with leading content companies in the United States, China, Latin America, Britain, Australia, New Zealand and Germany. The marketing is based on the "print on demand" method, which is how the books of Israeli poet Ronny Someck and retired Israel Air Force pilot Ran Peker are slated to be distributed in China.

Surprisingly, or not, some of the books distributed in hostile Muslim countries were written by IDF fighters or focus on Israeli security. For example, the book "Bundles of Hope" by Yoram Katz, which was translated into English and Arabic and is based on the real story of an Israeli fighter who in the middle of the Lebanon War helped the wife of a Lebanese fighter to undergo artificial insemination from a sperm donation in Israel, sold dozens of copies in Iran, Lebanon and Pakistan.

So did the book "Butterflies of Hope" by Talia Ganel Joya, which tells the story of two children named Amir, an Arab and a Jew, who they raise butterflies together which divide the wall separating between them.

Contento De Semrik has even opened a special department recently which specializes in translations into Persian. The publishing house is currently in the process of writing the books of former Shin Bet Director Carmi Gillon and Major-General (Res.) Doron Almog, whose book, which will be published in English, deals with the intimate relationship between the US Jewry and Israel in the David Ben-Gurion era.

Semrik is convinced that there will be a lot of demand for these books in Iran, Lebanon and Pakistan.

The Iranian publisher, by the way, brokered a business partnership between Semrik and a publisher from Spain, and even expressed an interest in a children's book written by Semrik himself, "Jonathan in the Kingdom of Mood Balloons," which was translated into Arabic and has sold dozens of copies in Lebanon and Pakistan so far.

"The publisher from Iran told me that he wanted children in Tehran to learn how to manage their feelings as well, like Jonathan in the book," he says. "He also joked that we should send copies of the book to some of Iran's leaders."

How do you keep in touch with colleagues from hostile countries?

"The Iranian publishers I met showed me their passports, which say that they are banned from visiting the 'occupied territories.' But we can keep in touch via email."
Royalties from enemy states
At a London book fair several weeks ago, Semrik met with Akram Ahmadi, one of the executives of the Islam publishing house in Pakistan, and even shot a television interview with him, in which he voiced his support for the translation of Israeli books into Arabic and their distribution to Islamic communities in the world.

"Judaism and Islam are so close. What God gave us over the years is more or less the same," said the Pakistani publisher, who has begun publishing Semrik's book in Arab countries.

Can one make a living from business with these countries?

"Let's just say that I don't think I will be able to retire from this profession thanks to the royalties received from the hostile countries, but this trend is moving and progressing and that's the fascinating thing about it. I believe it's quite possible that we will soon see the books in stores in Tehran and Beirut.

"I am very optimistic. In face-to-face meetings, like in fairs, people from both sides realize that we basically come from the same place and have a lot in common. There is a shared love for language, food and culture.

"This cultural alliance is much more immediate in the digital age, and we are already holding talks on ways to move the books from the Internet to the book stores. In other words, to leave Amazon's distribution network and reach the traditional stores."