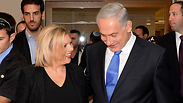 Netanyahu family
Photo: Kobi Gideon, GPO
The Prime Minister's Office denied Thursday any allegations of wrongdoing in the "patio furniture affair" exposed by Ynet earlier in the day.

"Even if the new outdoor furniture set was purchased for use in Caesarea during the prime minister's term, it was done according to a directive approved by the Justice Ministry."

The PMO said that Prime Minister Benjamin Netanyahu hosts guests and functions at this home in Caesarea and Jerusalem.

Earlier Thursday, Ynet reported that the state comptroller sent the Attorney General the findings of an investigation he initiated after receiving information that the Netanyahu family purchased patio furniture identical to the one in their private home in Caesarea – and then swapped the old set with the new one purchased for the official residence.

According to the allegation, a senior official in the PMO directed employees to acquire new furniture that is identical to the pieces at the private Caesarea home. When the furniture arrived at the Prime Minister's Residence in Jerusalem it was replaced by the old set.

The Netanyahu family saved the cost of replacing the furniture by billing the taxpayers, according to the allegations.

Initially, the PMO denied any knowledge of the affair. "The Prime Minister's Office is unaware of any investigation by the state comproller into this matter. To remove any doubt, we will note that despite the allegation, the furniture set that was purchased is at the official residence in Jerusalem and not in Caesarea."

The follow-up response no longer claimed the patio set was in Jerusalem, saying "the allegation of impropriety is greatly exaggerated." The PMO emphasized that "Prime Minister Benjamin Netanyahu hosts many business meetings on the patio of both the home in Caesarea and in Jerusalem."

The PMO clarified that "according to a decision of the Knesset's Finance Committee 'the residence of the prime minister in Jerusalem and outside will be administered by the state treasury.' The directive determines that the PMO will finance new furniture for the private residence outside of Jerusalem as needed for hosting duties during his term."

But the Prime Minister's Office stressed that the items purchased "will be state property and will be returned to the PMO at the end of his term as prime minister. It is clear that, contrary to the publications, everything was conducted according to the directives."