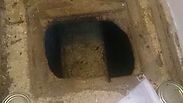 Tunnel in bathroom cell
Photo: IPS Spokesperson
Security detainees tried to escape Shita Prison in northern Israel by digging a four-meter-long tunnel from a cell bathroom. The cell in which the tunnel was found housed Islamic Jihad prisoners – some serving life sentences.

The search which discovered the tunnel in the security wing of the prison was initiated after the prisoner's management received information about a potential attack on guards.

During a search of the bathrooms, in one of the cells that house prisoners sentenced to life terms, guards discovered the opening of a tunnel that was hidden with tiles. The guards explored the tunnel, discovering it was four meters in length and half a meter in width.




Israel Prison Service said that it appeared the tunnel had been dug up in recent days. They added that the tunnel led to a yard of the wing, but was exposed before it could reach beyond the prison's perimeter.

The prison went on high alert after the discovery and large contingents of guards began a prison-wide sweep. During the sweep guards discovered civilian clothing which was altered to resemble a guard uniform in a wing housing Fatah prisoners.

Israel Prison Service insignia, cut out of cardboard and colored in with toothpaste, were glued on to the clothing. Prison management decided to clear the entire wing in order to conduct a thorough search.

Police said that, given the IPS findings, they are investigating any connection between the tunnel and other findings from other cells. IPS said "we thwarted a planned escape and attack on personnel by security detainees."