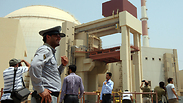 Bushehr nuclear plant
Photo: AFP
Failure to reach a deal on Iran's nuclear program would force Tehran to resume uranium enrichment activities, Iran's Deputy Foreign Minister Abbas Araqchi was quoted as saying on Thursday.

Speaking at a conference in Rome, Araqchi said he believed it was possible for Iran to reach an accord with world powers in time for a July 20 deadline, with drafting of final proposals due to begin next week.

"We need hard work and wisdom and logic to overcome disagreements," Iran's Fars news agency quoted him as saying.

Related stories:

"Iran will return to 20 percent enrichment if a deal cannot be reached ... failure to reach a deal will be a disaster for everyone," he was quoted as saying.

Iran and six world powers have been holding talks on curbing Tehran's nuclear program in exchange for an end to western sanctions with all sides under pressure to reach a conclusion by July 20.

However final agreement has been held up by differences over issues including the number of uranium enrichment centrifuges that would be available to Iran and diplomats have said there may have to be an extension.

Last November, under a deal that secured some easing in western sanctions, Iran agreed to halt enrichment of uranium to a fissile concentration of 20 percent, a level below weapons grade but one which would potentially allow it to upgrade its stocks relatively quickly.

Iran, which denies wanting to produce nuclear weapons, says it is producing low-enriched uranium to fuel a planned network of nuclear power plants, not to develop bombs as the West fears. Uranium must be enriched to a high degree - about 90 percent fissile purity - for a nuclear weapon.

Senior US officials met with Araqchi earlier this week in Geneva. US State Department spokeswoman Jen Psaki was asked about a series of bilateral meetings officials from the six-power group held with Iranian officials in Europe this week ahead of next week's negotiations in Vienna.

"Gaps remain, there's no question about that," Psaki told reporters in Washington about the US bilateral meeting earlier this week, without giving details.

Asked if a deal could be reached by next month's deadline, Psaki said: "Our focus remains on the July 20 deadline and that has not changed."