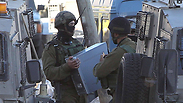 Searching for missing teens in the Hebron area
Photo: AFP
Israeli security forces continued combing through the Hebron area on Saturday, but did not rule out the possibility that the three missing yeshiva students were transferred to either Jordan or the Gaza Strip. Even so, chances the three are no longer in the West Bank are viewed as very low.

"I think there's a very small chance" the teens are no longer in the West Bank, former Sayeret Matkal commander MK Omer Bar-Lev (Labor) told Ynet.

"We have a separation barrier in the Jordan Valley, a security fence around the Gaza Strip. Chances are they are in Judea and Samaria, but not necessarily in the Hebron area."

Related stories:




Former Deputy Director of Shin Bet, MK Yisrael Hasson (Kadima), said that when IDF soldier Nachshon Wachsman was kidnapped in 1994, there were also assessments he had been transferred to another area, which later proved to be wrong. "The entire defense system was looking at Gaza, and eventually the kidnappers were tracked down to Beitunia (in the West Bank)."

On the possibility the three teens were taken to Jordan, Hasson noted that he "wasn't sure Jordan is safer for them than Tel Aviv. Jordan is a sovereign state with a strong intelligence apparatus and a clear message - no one will embarrass us."

Ynet's military analyst Ron ben Yishai said the chances the three were taken to Gaza were slim.

"The IDF's intelligence capabilities in Judea and Samaria are very good. There are sensors on the ground in addition to human intelligence and the Shin Bet agents on the field. We also saw the use of drones and military surveillance blimp in order to prevent the kidnappers from taking the teens anywhere."