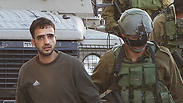 Looking for the missing teens
Photo: AFP
Hamas slammed Palestinian Authority President Mahmoud Abbas on Saturday for aiding Israel in the search for three missing teenagers believed to have been kidnapped.

"Security coordination between (Prime Minister Rami) Hamdallah's and Abbas's security services and the enemy to locate the heroes of the Hebron operation and arrest them is a stigma," said Hamas spokesman Fawzi Barhoum.

Despite the condemnation, the Islamist faction has not claimed involvement in the disappearance of the Israelis.

Related stories:

Palestinian militants have said in the past that they want to kidnap Israelis to win concessions from the Israeli government. More than 1,000 Palestinian prisoners were freed in 2011 in return for the release of Israeli soldier Gilad Shalit, held captive in the nearby Gaza Strip for more than five years.

A statement posted on Arabic social media on Friday said a Palestinian wing of the Iraq- and Syria-based Islamist militant group ISIL had seized the Israelis. The statement did not appear on regular ISIL websites, raising doubts as to its authenticity.

Hebron is a Hamas stronghold whose militants have at times eluded Israeli crackdowns. An Israeli soldier was killed while patrolling the city last September. The army described that as an attack by a Palestinian sniper who has yet to be captured.

Prime Minister Benjamin Netanyahu said in a statement on Friday that he held Abbas's administration responsible for the fate of the missing three. Two of them were aged 16 and the third aged 19, according to media reports.

Netanyahu called off US-brokered peace talks with Abbas over his reconciliation with Hamas, which controls the Gaza Strip and has waged occasional shelling wars against Israel.