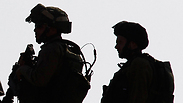 IDF troops searching for missing teens
Photo: Reuters
The IDF held a drill in the same area of the West Bank where three yeshiva students went missing on Thursday night, less than a day before their disappearance. The extensive exercise drilled the layout of a massive, developing terror attack.

דובר צה"ל

Hundreds of soldiers from the Kfir Brigade's Lavi Battalion and from the Nahal Brigade's 932nd Battalion took part in the exercise overnight Wednesday.

The exercise took place only a few kilometers from the hitchhiking post where Eyal Yifrach, Naftali Frenkel and Gil-Ad Shaer were last seen on Thursday night.

Related stories

The exercise's objective was to simulate, among other things, a terror attack that takes place in the area connecting the territorial brigade Etzion and its neighbor from the south - territorial brigade Judea, that includes Hebron.

It included a scenario of a shooting terror attack at a passing vehicle in Gush Etzion. This is a similar scenario to the shooting attack that occurred on Passover Seder night in the same area, in which Chief Superintendent Baruch Mizrahi was murdered. The perpetrators of that attack have not been captured.

"This special exercise prepared us for a situation in which an attack on the region between the two areas, which requires cooperation between the two brigades," the deputy assistant chief of staff for operations for the Etzion territorial brigade, Maj. Ayalon Peretz, told Ynet.

"A quick response by troops, which at times have to arrive at the scene immediately, could determine how a terror attack unfolds. These kinds of exercises demand the troops to function quickly and quality, in line with our duty to halt the growth of terror and put an end to it," Maj. Peretz continued.

The exercise implemented lessons learned from the troops' conduct on the night of the Passover Seder attack, including the new policy of placing checkpoints quickly, and efficient deployment of forces.

A senior officer at the Judea Brigade told Ynet that during the exercise, Lavi soldiers caught the terrorist quickly after a pursuit.

"They joined forces with the Nahal battalion commander for a parallel pursuit and run in with the second terrorist, who was 150 meters away and running towards Halhul. We hit him from there," he said.