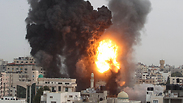 Archive: Israeli Air Force attacks in Gaza
Photo: Reuters
A rocket exploded in a community in southern Israel Saturday evening, only hours after IAF forces struck targets in Gaza Strip in response to additional rocket fire from earlier in the day.

Meanwhile, thousands of IDF troops searched the West Bank for three Israel teens who have been missing since Thursday evening and are presumed to have been kidnapped by Palestinians in the West Bank.

Related stories:

The rocket Saturday evening slammed into a community in the Hof Ashkelon Regional Community, landing only a few meters from a residential home. The IDF confirmed the rocket landed in the house's yard, but said no injuries or damage were sustained.

Video: Roee Idan (צילום: רועי עידן)

The rocket was preceded by a Color Red siren; however, this was not the case with the rocket that landed earlier Saturday, which landed near the border fence with Gaza in the Shaar Hanegev Regional Council.

Israeli Air Force struck a terror target east of Khan Yunis in the Gaza Strip on Saturday morning, in response to Palestinian rocket fire at the western Negev earlier.

According to Palestinian TV channel Al-Quds, the IAF jets targeted a terror post of Hamas' military wing, Izz ad-Din al-Qassam Brigades, near the Islamic University. According to the Palestinians, two missiles were fired towards the target.

An IDF spokesman said that the strike targeted "a terror activity site and a weapon storage facility," and that direct hits were identified.

The army stressed that the attack was in response to rocket fire towards Israel and that "the IDF will not tolerate any attempt to hurt the citizens of Israel and the IDF soldiers will act against any organization that uses terror against Israel."

Palestinian sources said that no one was wounded in either attack.