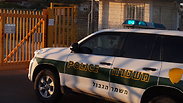 Police waited hours before launching search
Photo: Ahiya Raved
Police received a preliminary report about the disappearance of the three teens in the West Bank at around the time of the assumed kidnapping on Thursday night, it emerged Saturday. However, the police did not begin searching for the teens or inform the IDF and Shin Bet until the father of one of the boys went to the police in the early hours of Friday morning.

Sixteen-year-olds Gil-Ad Shaer from Talmon and Naftali Frenkel from Nof Ayalon disappeared on Thursday night along with Eyal Yifrach, 19, from Elad, apparently while hitchhiking home. There has been no sign of the three since, despite extensive searches of the West Bank by massive numbers of IDF troops and police.

Related stories:

Gil-Ad's father went to the police station at around 3:00 AM, and at the same time called the father of another of the missing teens. At that point, the police realized that the abduction reports were credible.

Judea and Samaria police declined to comment on the veracity of the report.

"There are many details related to the investigation into the kidnapping," the police said. "At present, we are not confirming or denying any details of the investigation, and are focusing on the massive effort underway together with the IDF and Shin Bet."


Rabbi David Rabinowitz, deputy head of the Makor Chaim Yeshiva, where Gil-Ad and Naftali Frenkel are students, said that they knew that something was wrong that same night.

"We realized that they were missing during the night. The parents called and said that they should have come home and they hadn't. We began making phone calls (and) at five in the morning realization dawned. There were other signs, we realized that something had happened and we started to worry a lot more, and slowly a clear picture began to emerge. Gil-Ad and Naftali had left at around ten - they decided to leave early and they spoke to their parents. The rest of the class left on Friday."

Noam "Dabul" Dvir and Eli Senyor contributed to this report.