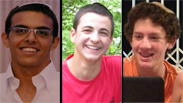 The three missing teens: Left to right: Eyal Yifrah, Naftali Frenkel and Gil-Ad Shayer
Photo: Shaul Golan
Israel has reportedly been enlisted the aid of Egypt in the search for the three missing Israeli teens – Eyal Yifrah, Gil-Ad Sha'er, and Naftali Frenkel – that have been missing since Thursday evening, Egyptian newspaper Ash-Shuruk reported Sunday morning.

According to sources, which the paper described as "credible", Egypt approached senior members of Hamas and Islamic Jihad to discuss the implications of the incident and to attempt to understand if the hostages are still alive or not.

Related stories:

In addition, Egyptian authorities put military forces in Rafah, on the Sinai-Gaza border, in high alert.

Egyptian media further reported that Israel is taking steps, including the use of helicopters and patrols, in the Sinai border in an attempt to prevent the possible transfer of the hostages to the Sinai Peninsula and from there to the Gaza Strip.

Meanwhile, IDF troops are continuing to comb the West Bank in search for the missing teens. 80 Palestinians in the West Bank were arrested overnight Saturday, including senior Hamas members and Palestinian lawmakers, and Israel placed a closure on Hebron and Bethlehem.

Among those arrested was senior Hamas activist Hassan Yousef, a former spokesperson for Hamas who is considered one of the organization's spiritual leaders, and members of the Palestinian Parliament Fathi Muhammad Ali Qar'awi, Hassan al-Bourini, Abdel-Rahman Zidan and Khaled Abu Arafa.

According to a senior military official, the arrests took place throughout the West Bank, including in Hebron, Ramallah and Tubas.

A closure was imposed on southern Judea and Bethlehem, following a closure made from midnight on Hebron.